May 24, 2021
With the help of our partners, the Roam The Empire campaign has made great traction online. We'd like to thank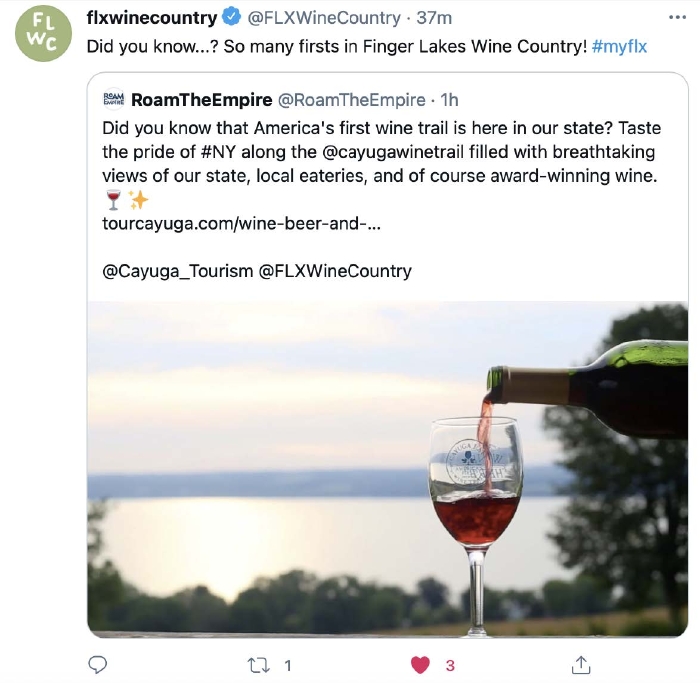 everyone who has already followed and engaged with #RoamTheEmpire content. Your efforts help bring awareness to New Yorkers everywhere!
In addition to resharing and engaging with your content, the Roam The Empire social media team has been busy doing some independent research of our own to highlight what's going on in our state. Some of you may have already noticed your organization tagged, and we have greatly appreciated the likes, comments and reshares. We especially enjoyed this engagement with Finger Lakes Wine Country on Twitter!
If you haven't seen your organization tagged yet, don't worry—more posts are on the way.
Boost Your Events and Attractions with RTE:
If your destination has an event coming up that you'd like to put in the spotlight, simply send over the promo materials so we can post about your event. For example, the Erie Canal Events on Tap for 2021 post was initiated from the Erie Canalway National Heritage Corridor. The press releases and promo materials provided in the email gave us ample material to help New Yorkers celebrate their Erie Canal heritage. You can do the same for your events and attractions that need a bit more promotion.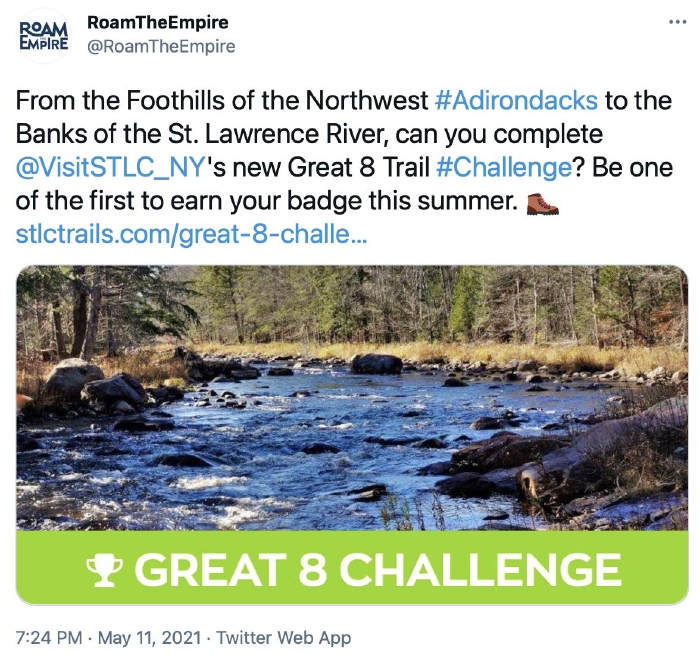 Another great way to rally New Yorkers to the cause is to guide them towards more motivations to choose their state this year. Visit St. Lawrence promoted their Great 8 Challenge as another reason for New Yorkers to Roam The Empire, and you can do the same for your destination's unique attractions. We'll pick up on the post and add some copy for our audience.
Stay tuned:

The creative team at Mower has been putting together some beautiful graphics that highlight some facts that make our state so great. They have lots of other ideas up their sleeve, so be sure to follow and share to keep up with what's coming!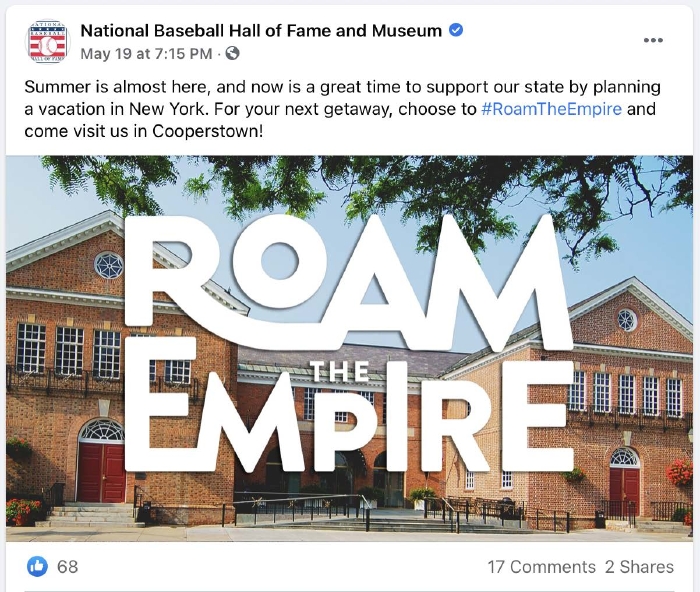 Weekly Post Highlight:
Keeping your followers aware of the impact they will have by vacationing in-state is crucial to the campaign's success. We'd like to give this week's post highlight to the creative team of the National Baseball Hall of Fame and Museum for their creative, cause-focused post. We'll call it a home run!
Thank you again for your unwavering support. We're so excited to see what we can do together for our NY communities and destinations.

Let's get New Yorkers to safely and proudly #RoamTheEmpire!

Alana & Rachele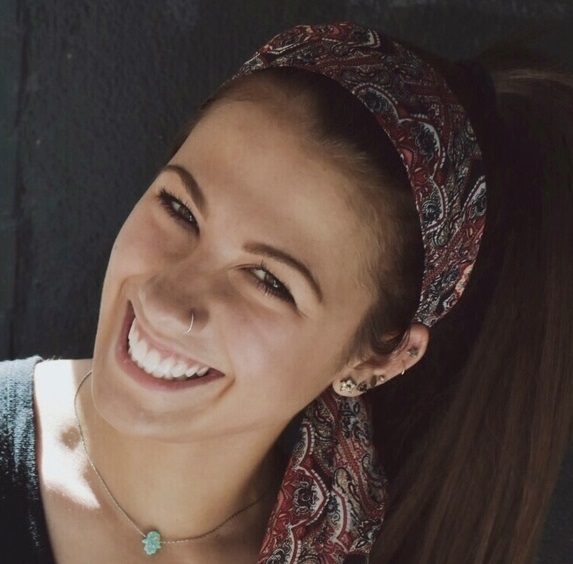 Alana Gonzales:
Alana is a Digital Content Specialist on Mower Agency's content team helping to run the Roam The Empire Instagram account. She works and lives in Syracuse, New York and has planned quite a few Empire staycations for the summer from boating on Cayuga and Skaneateles Lakes to visiting friends who've recently made Manhattan home. Feel free to send Alana an email at
agonzales@mower.com
if you have any inquiries or comments as it pertains to the Roam The Empire Instagram account or for collaborations that you have in mind.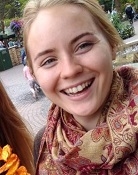 Rachele Markle:
Rachele is the Communications Coordinator for NYSTIA. She was born and raised in Oneida, New York but her love for tourism and career pursuit have led her abroad. Rachel has managed the communications and social media for nonprofit organizations in the Netherlands and a virtual festival in London, and recently completed a masters in Tourism Destination Management in Edinburgh, Scotland. Rachele is currently residing in Berlin, Germany, and hopes to return to New York State to pursue her tourism career. You can contact Rachele anytime at
rachelem206@gmail.com
to collaborate on RTE content, ask questions, or just say hi!