Aug 13, 2021
- With all the significant developments in New York State over the past few years, there is more reason than ever to Roam The Empire. In his recent letter to members, NYSTIA's President and CEO, Bob Provost highlighted the 2018 opening of the National Comedy Center, the 2019 completion of the Empire State Trail, this year's opening of LEGOLAND New York Resort, and now the proposed Lake Ontario National Marine Sanctuary along the coastlines of Wayne, Oswego, Cayuga, and Jefferson Counties. These exciting developments are only a sliver of the full scope of opportunities our state has to offer in and out-of-state travelers. And despite the rising Delta variant cases, he is confident in the future of New York State Tourism.
We can't help but agree with Bob's optimism. The challenges of the past year have only highlighted New Yorker's tenacity and unity. With safe mandates and even more reasons to Roam The Empire, we can't wait to see what is on the horizon for our New York State travelers!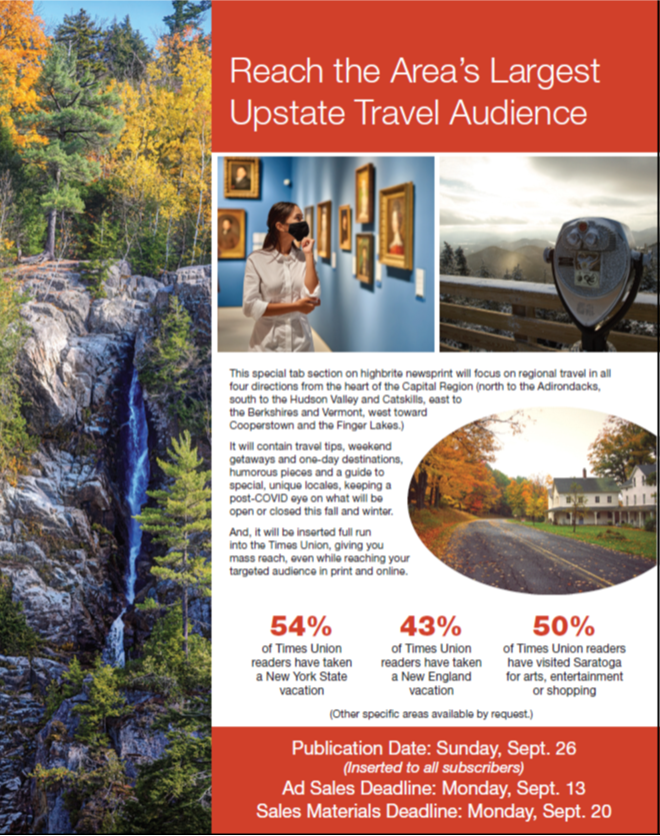 The "Roam The Empire" Grant:
We're excited to announce that Times Union Media Group is advancing their fall edition of The Upstate Traveller, offering all NYSTIA members the opportunity to participate in a dollar-for-dollar matching grant which can be used for free advertising space through October 31. They're coining it the "Roam The Empire Grant!"
Show us and New Yorkers the fun and beautiful content about traveling in the Capital Region of New York State. Check out the media kit and read up on more details.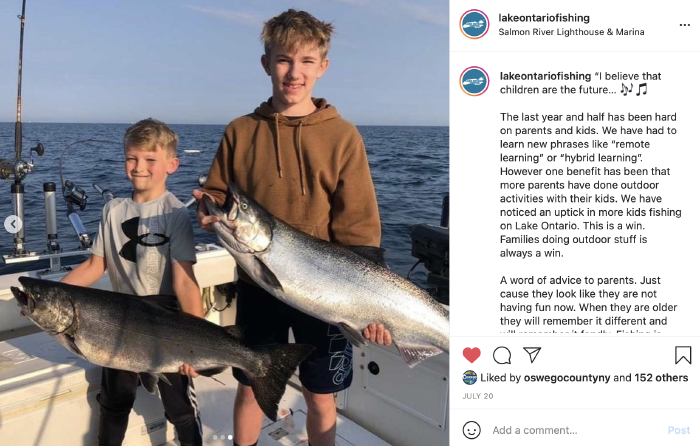 Lake Ontario Fishing:
Have you seen
Lake Ontario Fishing
's
Instagram page
? If not, you're missing out on many good laughs, inspirational stories and life lessons. Each glistening catch comes with a unique smiling face in front of Lake Ontario waters. The captions are sure to brighten your day, and get you to Roam The Empire!
From fisherman interviews, parodies of popular song lyrics and facts about charter captains, there's no shortage of great content promoting the wonderful experiences NYS has to offer.
Roaming Ahead:

Wild Wednesday
Foodie Friday
8/18 — Picture-Perfect Views

Ever took the long way home just for that gorgeous view? Does your destination's natural beauty take off on Instagram? Share them with us!


8/20 — Food Trucks

Food is great...but food that comes from a truck is sometimes even better! Which food trucks are especially loved in your community?


8/25 — Fishing Spots

Which waters are a fisherman's dream, and what types of fish can they find there? Any tips on what they should bring?

8/27 — Seasonal Treats

There's nothing more special than a seasonal delight. Let's see what seasonal treats your destination features—no matter the season!

Roam Chautauqua at the Annual NYSTIA Meeting:
The first in-person gathering of NYSTIA members is right around the corner. Join us in Chautauqua for the
2021 NYSTIA Annual Meeting and Tourism Excellence Awards
on October 20-22, as we share stories, plan for 2022, and explore all the Chautauqua has to offer. You won't want to miss a tour at the
Lucy-Desi Museum
, the morning cruise on Lake Chautauqua, or getting some laughs at the
National Comedy Center
.
There's still time to register, book your room at the beautiful Chautauqua Harbor Hotel and check out the exciting itinerary. We can't wait to see you there.
Tell us what to tell New Yorkers:
Every destination is unique, and we want to know those special qualities of your destination that can't be found on your website. Let us know how we can promote your destination by taking our
partner survey
and our
summer events survey
.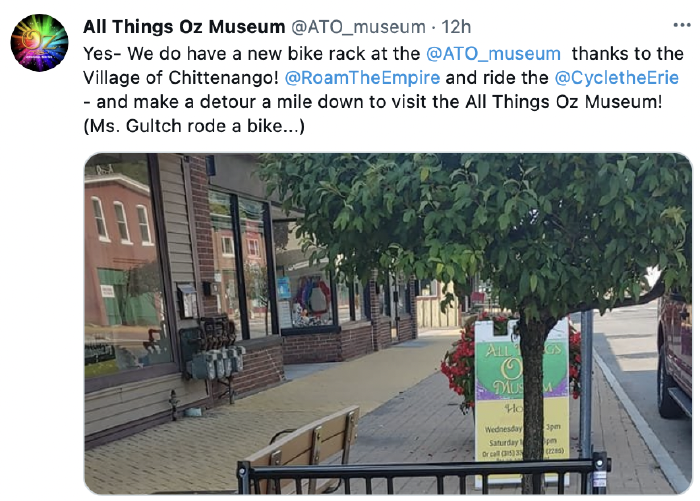 Weekly Post Highlight:
The All Things Oz Museum announced their brand-new bike rack, thanks to the village of Chittenango. We love how they announced this healthy new addition while encouraging their followers to #RoamTheEmpire and Cycle the Erie Canal.
Thanks, All Things Oz, for the amazing double shout-out!
If you're reading this, you've made it to the end of the week (and this update). Congratulations and thank you! Stay safe and roam on this weekend, New York.
— Alana & Rachele