Jun 18, 2021
- Our state has made tremendous strides in the fight against the Coronavirus pandemic. As most state-mandated restrictions are lifted due to New York's landmark 70% vaccination rate, we'll continue to see more New Yorkers Roaming the Empire this summer.
We'd like to thank all our partners for their support and resolution throughout this challenging year.
Follow Roam The Empire Socials: Facebook // Twitter // Instagram
NYS Events at Full Capacity: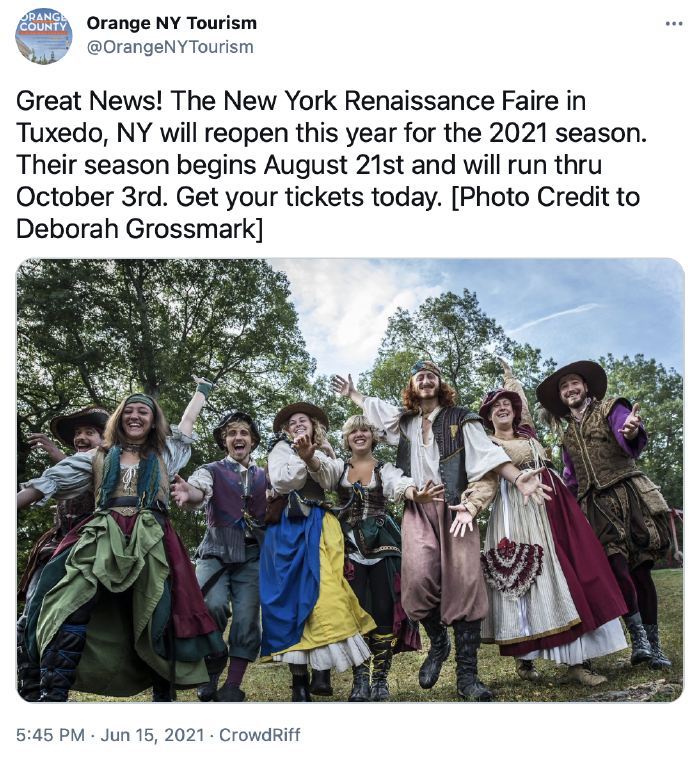 The revival of our state has already started to come alive within social media. Many of the much-loved NYS traditions have announced their opening to full capacity this summer, like the Great New York State Fair in Syracuse and the Renaissance Festival in Tuxed. We've caught on to these big announcements, but have we missed yours?
Tag @RoamTheEmpire in your post or email us directly to let us know of your destination's big reopenings!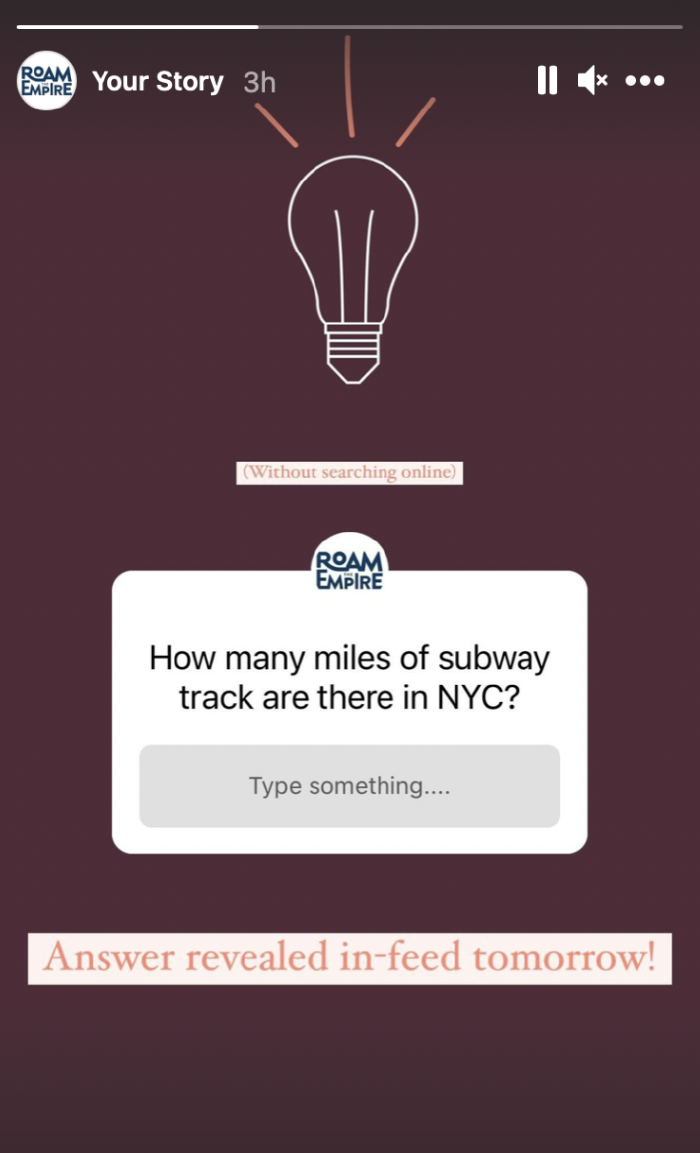 Test Your NYS Knowledge:
Stay tuned for trivia questions submitted by Tour Cayuga in the coming weeks on our Instagram and Facebook stories. We would love to tell you the topic, but we can't have everyone studying up on it before it goes live. 😉 Do you know what it might be?
Would you like us to feature a fun fact from your destination?Let us know and we'll submit it to our creative team, or use it in an original post.
Get Animated!
We're loving this Roam The Empire promo video from the creative team at Mower! You can find it travelling about all of our social media platforms.
Please help us keep the campaign momentum flowing by
sharing the post
with your audience. Click on the video to watch it:
Roaming Ahead: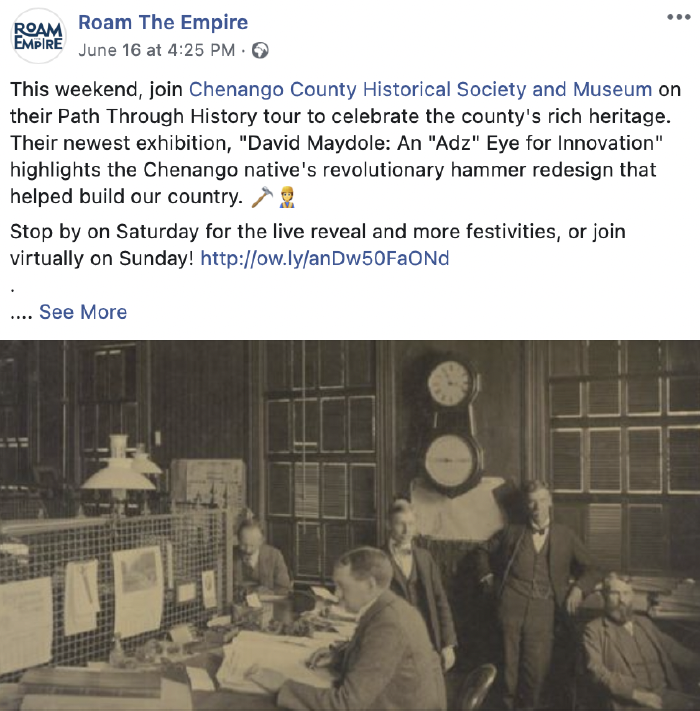 We've put together a quick
questionnaire
for you to share your events with us to be featured on the next RTE newsletter and social channels. It'll help us keep track of all the amazing events coming up this summer.
Partners at the
Chenango County Historical Society
shared with us their upcoming
Path Through History Weekend
activities live on Saturday 6/19 and virtually on Sunday 6/20. You won't want to miss Dairy Day, their new exhibition on David Maydole, awards ceremonies for high school students, and more!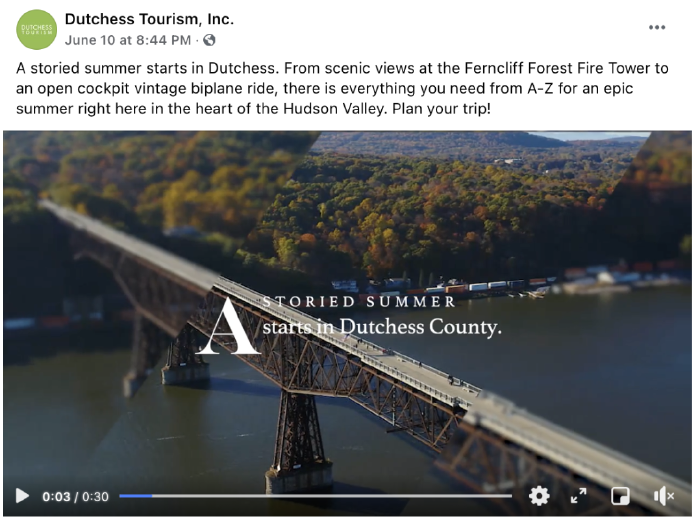 Weekly Post Highlight:
From A to Z and everything in-between, our state is filled with exciting activities for every New Yorker. We were amazed at how
Dutchess Tourism, Inc.
captured this idea so beautifully in their new promo video. Check out their page to give it a watch!
We're loving each destination's COVID comeback stories and it has been such a pleasure to meet with different people from a variety of organizations. Don't be a stranger; send us an email if we can help your organization or destination out with social promotion in any way.
Keep roaming!
— Alana & Rachele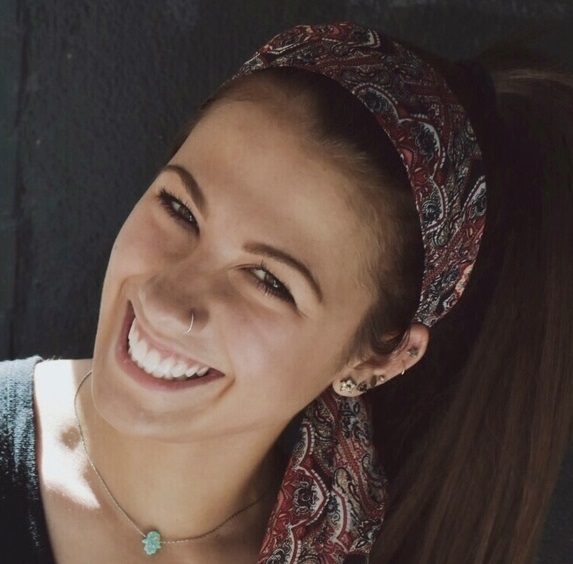 Alana Gonzales:
Alana is a Digital Content Specialist on Mower Agency's content team helping to run the Roam The Empire Instagram account. She works and lives in Syracuse, New York and has planned quite a few Empire staycations for the summer from boating on Cayuga and Skaneateles Lakes to visiting friends who've recently made Manhattan home. Feel free to send Alana an email at
agonzales@mower.com
if you have any inquiries or comments as it pertains to the Roam The Empire Instagram account or for collaborations that you have in mind.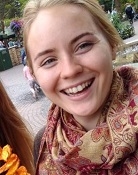 Rachele Markle:
Rachele is the Communications Coordinator for NYSTIA. She was born and raised in Oneida, New York but her love for tourism and career pursuit have led her abroad. Rachel has managed the communications and social media for nonprofit organizations in the Netherlands and a virtual festival in London, and recently completed a masters in Tourism Destination Management in Edinburgh, Scotland. Rachele is currently residing in Berlin, Germany, and hopes to return to New York State to pursue her tourism career. You can contact Rachele anytime at
rachelem206@gmail.com
to collaborate on RTE content, ask questions, or just say hi!