Nov 6, 2020

- Monday, November 16 at 12:15 PM
Tourism Recovery Improvement Districts Panel Discussion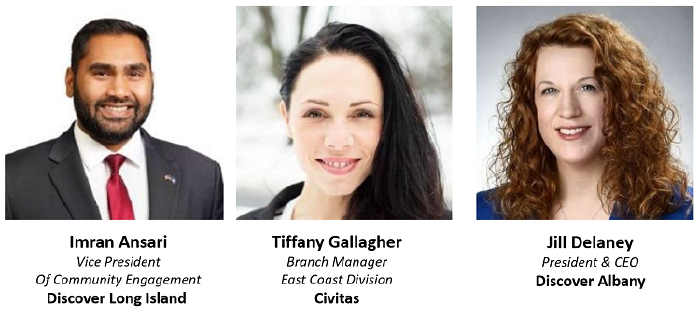 New York State legislation centered on enabling the establishment of Tourism Recovery Improvement Districts has been introduced. Tourism Recovery Improvement Districts provide a mechanism for your community to convene local tourism industry stakeholders and establish stable funding resources to work in partnership for post-COVID-19 recovery and success in the years ahead.
Jill Delaney with Discover Albany and Imran Ansari with Discover Long Island will share with us the steps, process and efforts they have been through to establish Tourism Recovery Improvement Districts in their counties.

Tiffany Gallagher of Civitas, who specializes in the formation of Tourism Improvement Districts across the US, will share tools and thoughts about the process.
Please review our previous article on Tourism Recovery Improvement District bill S8938
- Authorizes local municipalities to establish tourism recovery improvement districts.

Registration for the three-day virtual
New York State Tourism Conference
is $150 per person,
maximizing both affordability and participation.