Oct 21, 2020
NYSTIA's newest board member is Joanne Conley, Warren County Tourism Director and President of the Adirondack Regional Tourism Council. Joanne has been appointed to fill the board vacancy created by the departure of Ron Ofner, who had also served as Board Secretary in 2020. "Joanne already serves on NYSTIA's Marketing and Scholarship Committees," notes Board Chair Josiah Brown. "She brings the perspective of a highly engaged, informed member to board discussions and deliberations. Joanne, together with fellow board member Hillarie Logan-Dechene (Deputy Director of The Wild Center in Tupper Lake), will ensure that NYSTIA is in touch with the priorities of our members in the Adirondack tourism community."

As Director of the Warren County Tourism Department, Joanne says she is "fortunate to work with a dedicated team of seven professionals who share the vision of year-round promotion and visitor services for the Lake George Area, working cooperatively with our business partners to cultivate the Lake George Area brand."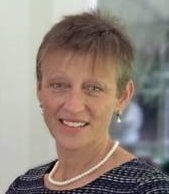 Regarding life outside the office, Joanne shares
"I am an avid outdoors woman. I am an Adirondack 46er, working on my winter hiking round; I like to paddle, run, cycle, garden, hunt and stargaze. And I love to entertain friends and family, especially at our summer camp in the Adirondacks."