May 12, 2021
- The Times Union Media Group is pleased to announce two new marketing opportunities – Upstate Traveler and Epic Summer Escapes - to connect and reconnect with visitors and locals exploring all that Upstate New York has to offer when you ROAM THE EMPIRE.
Within both initiatives, a comprehensive branding program has been developed to drive results with a suite of traditional and digital solutions to reach consumers in unique, novel, and authentic ways.
Available for a limited amount of time, the Times Union Media Group will be offering a special matching grant for all advertising spending for NYSTIA members. This exclusive opportunity will help your organization showcase itself as a high-value destination for travelers and share new opportunities for enjoyment to current travelers.
Both of these initiatives give New York travel and tourism companies mass reach and connect you with your targeted audience online. Plus, with a matching grant valid through October 31, 2021, connecting with your desired audience, at scale, will become less burdensome.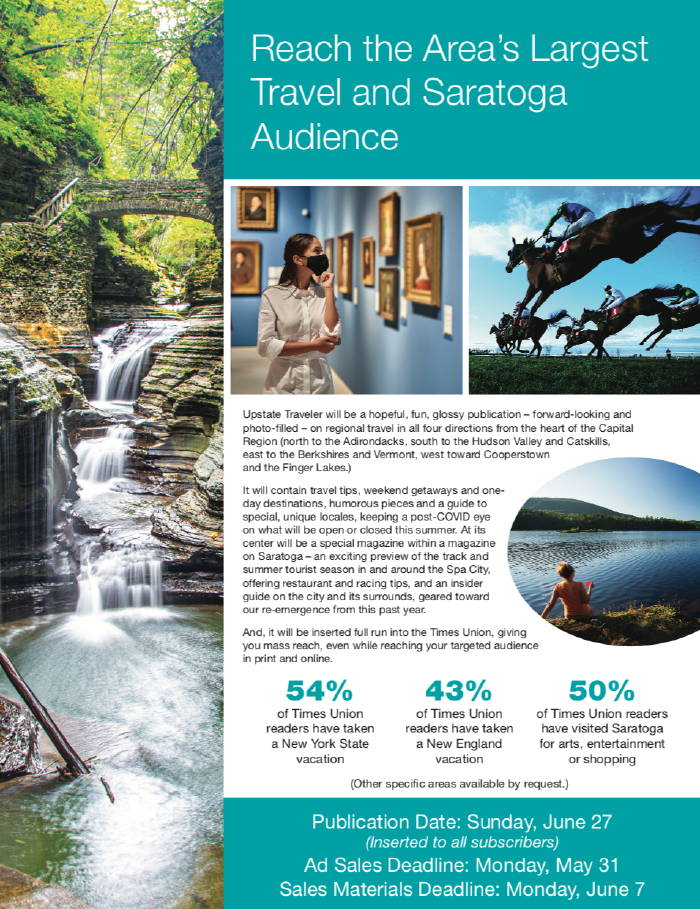 Upstate Traveler
Upstate Traveler will be a hopeful, fun, glossy publication – forward-looking and photo-filled –on regional travel in all four directions from the heart of the Capital Region (north into the Adirondacks, south into the Hudson Valley and Catskills, east to the Berkshire and Green Mountains, west to Cooperstown, Central New York, the Finger Lakes and beyond).
The publication will contain travel tips, weekend getaways and one-day destinations, humorous pieces and a guide to special, unique locales, keeping a post-COVID eye on what will be open or closed this summer.
Download the Upstate Traveler brochure HERE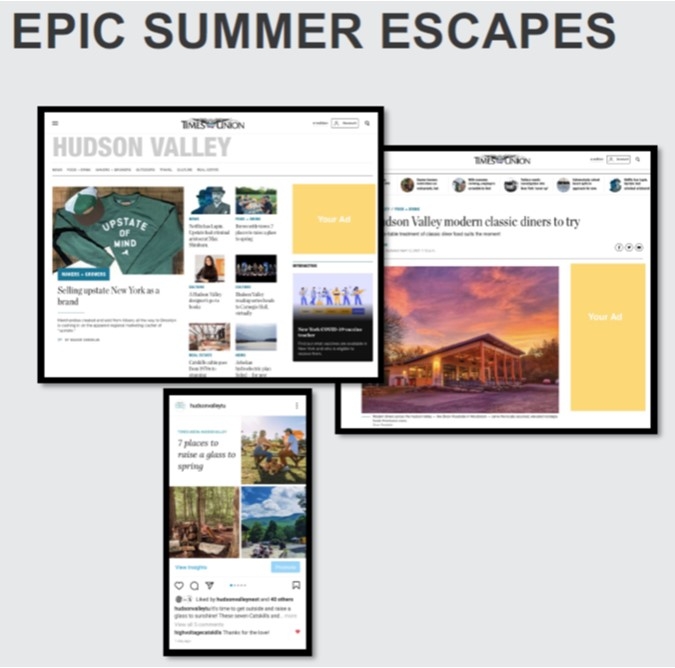 Epic Summer Escapes
The Times Union has recently expanded its presence within the Hudson Valley through TimesUnion.com/HudsonValley. In addition to bringing to light the regional news, events and trends shaping life in the Hudson Valley, we bring scale, scope and voice to the uniqueness of the Region.
As we enter a post-pandemic world, consumers want to make and share memories once again. Through the Times Union's Epic Summer Escapes program, consumers who find themselves in the region for a moment, a weekend, a season or a lifetime will have what they want and need to experience the adventure and inspiration of local events, entertainment and travel throughout the area.
Epic Summer Escapes is a special 10-part summer travel series that will celebrate the best in regional escapes for every type of traveler. Content will be featured across Times Union.com and TimesUnion.com/HudsonValley, through weekly social promotion on Facebook and Instagram, via a weekly newsletter to drive readers, and through a special print edition to create a rich, cross-channel presence for advertisers.
Download the Epic Summer Escapes brochure HERE
Upstate Traveler & Epic Summer Escapes
Targeting consumers in the right place at the right time in their purchasing process is challenging for many travel, tourism and entertainment organizations, especially as consumers now use a variety of channels and devices to research locations and plan their agendas. As we find ourselves in an "experience economy," it is now more important than ever to break through the noise and provide customers with the opportunity to engage with your brand.
"The Times Union Media Group serves to provide its partners within the travel, tourism and entertainment realms constant access to specialized programs and product roll-outs to create a bespoke advertising experience," said Chris Pettograsso, Vice President of Strategic Sales. "We pride ourselves in the ability to strategize and create the best custom targeting campaign for our partners for their continued success."
For more information on advertising positions and opportunities,
please contact the Times Union Media Group.
Mike Peterson
Times Union Media Group
M: (518) 424-7831
mpeterson@timesunion.com
About the Times Union Media Group
The Times Union Media Group is a data-driven advertising and digital marketing agency with full-service capabilities. Through parent company, Hearst, and four other sister agencies around the United States, the Times Union Media Group offers the individual attention of a startup with the resources of a large corporation. In addition to its journalistic commitment, Hearst recognizes its responsibility to help its advertising customers grow their businesses by offering the most cost-effective and targeted opportunities to reach new customers.