Jun 28, 2021
- Our state has come a long way in beating back this virus, but our work continues because we need to get every New Yorker vaccinated—especially with the risk of the Delta variant, also known as B.1.617.2. The CDC has designated this more contagious variant as a "variant of concern." It poses a serious threat to communities with lower vaccination rates. The good news is, all the COVID-19 vaccines have proven extremely effective at preventing serious illness, hospitalization, and death from COVID-19—even against variants of concern such as the Delta variant. Those who are unvaccinated have the greatest risk of becoming seriously ill, which is why the New York State Department of Health urges all eligible New Yorkers to get vaccinated as soon as they are able.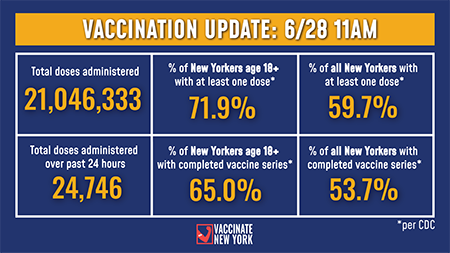 Image of the Day: To date, New York has administered 21 million vaccine doses
Here's what else you need to know tonight:
1. COVID hospitalizations are at 346. Of the 55,334 tests reported yesterday, 290, or 0.52 percent, were positive. The 7-day average percent positivity was 0.39 percent. There were 89 patients in ICU yesterday, up four from the previous day. Of them, 42 are intubated. Sadly, we lost 3 New Yorkers to the virus.
2.
As of 11am this morning, 71.9 percent of adult New Yorkers have completed at least one vaccine dose, per the CDC.
Over the past 24 hours, 24,746 total doses have been administered. To date, New York administered 21,046,333 total doses with 65.0 percent of adult New Yorkers completing their vaccine series. See additional data on the State's
Vaccine Tracker.
3. There is no post-COVID recovery that doesn't include helping small businesses.
Business owners who experienced financial hardship due to the COVID-19 pandemic can apply for the State's Business Recovery Fund.
Learn more.
4. To date, New York has conducted over 58 million tests.
Getting tested for COVID regularly is a great way to ensure your health and the health of those around you. If you are experiencing symptoms of COVID or believe you may have been exposed to the virus, get tested.
Find
a testing site near you. You can also call 1-888-364-3065 to make a free appointment at a New York State-run testing location.
5. Just a few days left until the last drawing of NY's Vaccine Scholarship Incentive.
New Yorkers ages 12-17 who get vaccinated can enter for a chance to win a 4-year full-ride scholarship to a SUNY or SUNY school. Learn more:
ny.gov/vaccinescholarship.
Tonight's "Deep Breath Moment":
Underneath Albany's streets
lie
a series of hollow tree trunks—remnants of the city's first public water system. Albany Water Department employees have often found the hollowed tree trunks while making repairs, and they dug up some ancient wooden mains in early June. Albany's water system dates back to the late 1600s and is the second-oldest in the country.
Ever Upward,
Governor Andrew M. Cuomo