Feb 19, 2018
What: 2018 "I Love New York" Empire State Tourism Conference, hosted by the New York State Tourism Industry Association and I Love New York
When: April 23 - 25, 2018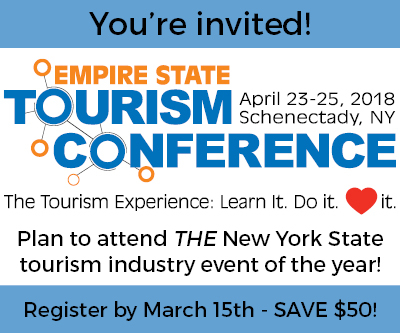 Where: Rivers Casino & Resort, Schenectady, NY
Who: Attendees include representatives from destination marketing organizations, trade associations, chambers of commerce, state agencies, as well as business owners/managers/staff, students - anyone with a stake or intereste in the hospitality and tourism industry. Sponsors and exhibitors include those who would like to network with prospective clients from the New York State tourism industry.
Overview: Attend and immerse yourself in hands-on and energetic workshops that investigate and try out tools-of-the-trade for both the promotion side and the traveler side of tourism, as well as provide opportunities to "experience" best practices and innovative solutions to maximize our industry efforts.
Schedule, programming descriptions, pricing online at www.EmpireStateTourism.com.
NYSTIA members - save $50 using promo code NYSTIA.
All attendees - register by March 15th, and save an additional $50 for early bird registration.
Sponsorship and exhibitor opportunities still available.

For more information, contact Suzanne Bixby, NYSTIA Marketing & Communications Director, at suzanne@nystia.org or 888-698-2970, ext 3.