Jan 27, 2021
- Business Certification Program Promotes Bicycle Tourism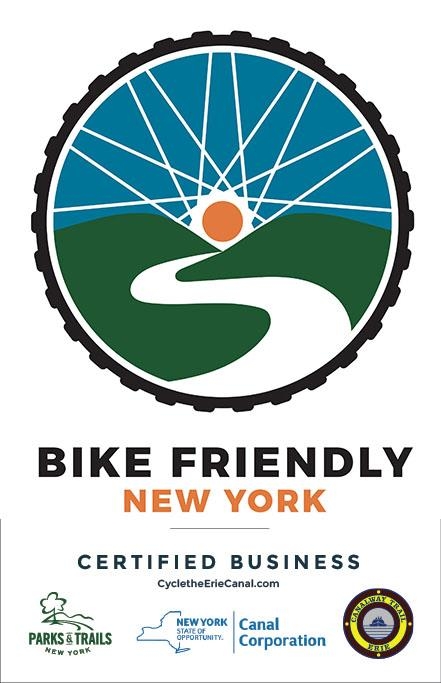 Why Should Your Business Participate? Bicyclists Bring Business!

Enhance the level of service for touring and other cyclists
Educate business owners on the cycling market, local and regional bike routes, and trail networks
Increase awareness of the economic impact of cycling in New York
Create new opportunities for data gathering and economic impact determination
Build excitement around cycling in New York State
Bike friendliness is not a "yes or no" quality, and the steps that businesses take to cater to cyclists vary. Above all, bike friendly businesses value cyclists as customers. Therefore, they strive to meet the unique needs of cyclists. Beyond the basics, there is a wide range of ways that businesses can serve cyclists. The BFNY program reflects this range with its flexible eligibility requirements and suggested amenities.
There is NO COST to participate in the Bike Friendly New York program. Certification is good for three (3) years. Applications will be reviewed on a rolling basis.
For more information, download our informational handout HERE. More information on Bike Friendly New York, frequently-asked questions, and the online application are available at ptny.org/bikefriendly.
Bike Friendly New York (BFNY) is a bicycle friendly certification program that launched in 2017 and currently has over 150 businesses. Administered by Parks & Trails New York (PTNY) and the New York State Canal Corporation, BFNY aims to recognize and promote businesses that provide special accommodations for bicyclists. A wide range of businesses can apply for bike-friendly certification, including restaurants and bars, lodging, shops, and museums. BFNY was conceived with businesses located along the statewide Erie Canalway Trail (ECT) in mind; however, eligible businesses across New York may apply and be certified.