Feb 28, 2022
(Or "Summer Hopscotching with a Film Crew across New York on the Empire State Trail")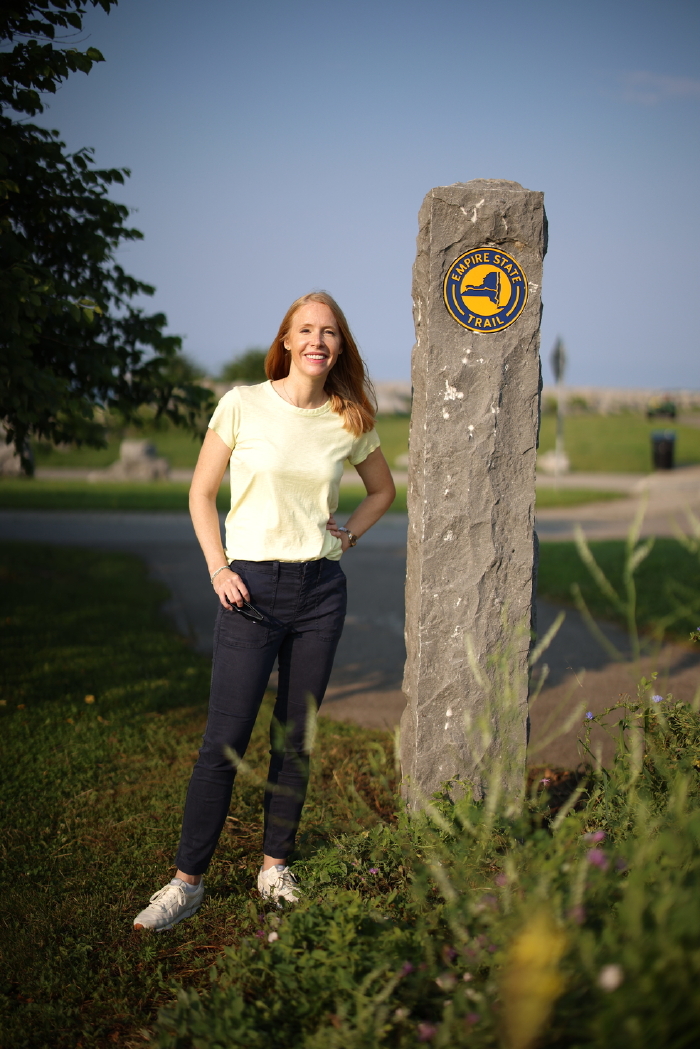 - Looking for ways to promote the new Empire State Trail, New York State Parks teamed up with TPAs and PBS' Travels with Darley show to showcase some of the cool destinations and local flavor found along the 750-mile bicycling, walking, and hiking route that runs from Buffalo to Albany along the Erie Canalway Trail, and from New York City through the Hudson and Champlain Valleys to Canada. Recognized in Forbes for her "PBS Travel Empire," Darley Newman is a producer, editor, director, writer and TV host.
The production was supported with a grant from the Northern Border Regional Commission, a federal-state partnership for economic and community development, to the state's Natural Heritage Trust. While the federal government provided the financing and the state-administered the grant and coordinated the shoot, the entire effort would not have been possible without the incredible enthusiasm and hospitality shown by the counties and local tourism partners willing to open their doors and host the show.
Planning, scouting and filming took place last summer with Darley and her crew visiting 13 communities and 31 destinations and attractions in a whirlwind five days amidst the pandemic.
Dozens of tourism partners, trail users, outfitters, and local artisans and purveyors in each of the communities rolled out the red carpet welcoming Darley and the production team. Among the many stops (including several state parks and a historic site), the shoot included a canal locks demo, cycling tours, a canal boat ride, museums, cave tour, guided history walks, kayak tour, wine tastings, scenic vistas, stops at charming cafes, ice cream shops, craft breweries, and bike shops, interviews with business owners, trail users, and travel experts, and more.
The resulting Empire State Trail episode is currently being rolled out, premiering on PBS stations across the state at varying times: in Buffalo it aired a couple weeks ago; Albany and the Hudson Valley this past weekend; New York City this coming Wednesday; and Rochester and Syracuse in April. As episodes broadcast at different times in different markets, viewers can check their local PBS TV listings for dates and times in their areas, locating their local station with the PBS station finder. The show will be broadcast again on a nationwide feed on PBS stations through Create TV this spring. On March 1, it will also start on streaming networks through Ovation TV's JOURNY to Roku, Apple TV, Amazon Fire, etc. and be free online to view as well. The Empire State Trail episode is also being promoted on multiple social media channels and was featured in a broadcast about top travel destinations Darley conducted with the Smithsonian.
Be sure to check it out because you might see some familiar faces and places!
[Writer's note: It was a formidable task to narrow down all the extraordinary stops along the trail, so a huge shout-out to the network of TPAs and travel partners who helped make connections, host, provide lodging, juggle schedules and share their experiences and insights to help make the EST episode a success!]
Links to promos here:
Empire State Trail Episode Promos YouTube : https://youtu.be/1Kb0rlr7_dI https://youtu.be/Tq6bpfeV_BQ
Empire State Trail Episode Promos Vimeo : https://vimeo.com/639536952

Wendy Gibson
Director of Marketing
NYS Office of Parks, Recreation & Historic Preservation
cell: 518.441.5059