Mar 28, 2022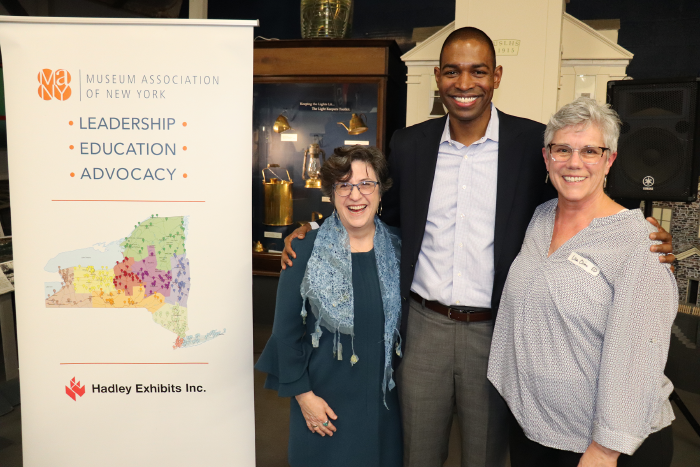 MANY Executive Director Erika Sanger with Congressman Antonio Delgado (NY-19) and Hudson River Maritime Museum Executive Director Lisa Cline at the Smithsonian Museum on Main Street Water/Ways traveling exhibition in 2019

- The Museum Association of New York (MANY) is pleased to announce that Executive Director Erika Sanger was awarded an Advocacy Leadership Award from the American Alliance of Museums during Museums Advocacy Day 2022. These awards are presented to advocates who have demonstrated exemplary leadership in their advocacy for the museum field.
"[Erika's] tireless work to represent New York museums at all levels of government, cultivating deep and meaningful relationships with legislators, is a true model for the museum field," said Laura Lott, President & CEO for the American Alliance of Museums. Lott cited Sanger's years of capitalizing on opportunities to speak up for museums. She is a trusted resource and a highly knowledgeable representative of the New York museum community. Her advocacy work throughout the pandemic helped museums receive $3 billion in federal relief funding over two years that saved jobs, programs, and museums from closure.
"Erika Sanger brings a wonderful passion and commitment to leading and representing New York State museums at all levels of government, working tirelessly to cultivate deep and meaningful relationships with legislators. We applaud Erika's proactive leadership to ensure that New York museums are seen and heard, and in supporting the large and diverse Museums Advocacy Day delegation from New York."
"Congratulations to Erika Sanger on her Advocacy Leadership Award! I applaud her tireless work in advocacy of museums in New York and across the country," said Senate Majority Leader Charles E. Schumer. "We thank her for her dedication to strengthening and protecting museums which are vital pillars of cultural strength and community."
"New York's museums are world-class cultural institutions, attracting visitors from around the world, providing vital educational programming, and serving as cornerstones of their communities," said Senator Kirsten Gillibrand. "In the face of the many challenges museums have faced throughout the pandemic, Erika Sanger has worked tirelessly to advocate on their behalf. I congratulate her on this well-deserved award and look forward to continuing to work with her, the Museum Association of New York, and the American Alliance of Museums to ensure that our state and nation's museums have the resources they need to thrive."
"I want to offer my congratulations to MANY's Executive Director Erika Sanger, who has been awarded an Advocacy Leadership Award from the American Alliance of Museums," said Rep. Antonio Delgado (NY-19). "Erika's tireless advocacy to support the arts and keep museums funded enriches our communities and helps ensure that these museums may be enjoyed by folks for years to come. I look forward to continuing this work alongside Erika and other advocates at MANY and AAM to support our museums and the local arts."
"I am honored to be recognized for my advocacy work on behalf of all of our museums. Museums are places where people share cultural experiences that define our communities, our state, and our nation," said Sanger. "These valuable economic contributors, community anchors, and education partners are struggling to find stability in the wake of the pandemic.
The Museum Association of New York is working hard to amplify the contributions they make to our communities and their need for state and federal financial support."
About Erika Sanger
Erika Sanger joined the Museum Association of New York in 2016. She is the leading ambassador and advocate for museums and cultural institutions in New York State. Sanger is recognized as an innovative professional who leads projects from vision to funding, from implementation to evaluation, and from community engagement to fiscal accountability. She is a highly effective administrator, an inspiring educator, and an engaging speaker. Her expertise in the interpretation of material culture is complemented by a commitment to build public engagement in the diversity of our shared histories.
Sanger gained her extensive experience in museums through positions held at renowned institutions including the International Center of Photography, the Jewish Museum, the New-York Historical Society, the Brooklyn Museum, the Albany Institute of History & Art, and the Asheville Art Museum in Asheville, NC. She served as Director of Development at Penland School of Crafts in Western North Carolina, where she participated in the design and implementation of campaigns for capital and endowment funds. Programs produced under her direction have received funding from state and federal agencies, including the Institute for Museum and Library Services and the National Endowments for the Arts and Humanities.
Sanger holds a B.F.A. from Clark University, in Worcester, MA, and an M.A. from New York University's Steinhardt School of Culture, Education, and Human Development.
# # #

About MANY

The Museum Association of New York helps to shape a better future for museums and museum professionals by uplifting best practices and building organizational capacity through advocacy, training, and networking opportunities. Visit www.nysmuseums.org and follow MANY on Facebook, Twitter, Instagram, and LinkedIn @nysmuseums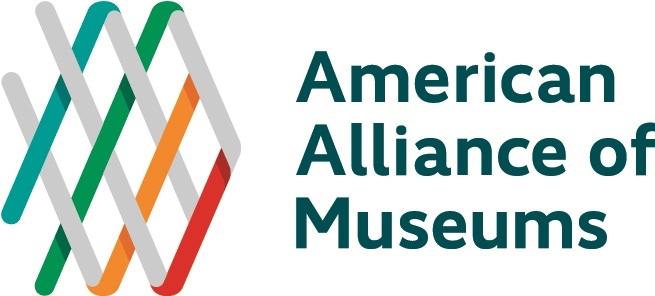 About the American Alliance of Museums

The American Alliance of Museums (AAM) is the only organization representing the entire museum field, from art and history museums to science centers and zoos. Since 1906, AAM has been championing museums through advocacy and providing museum professionals with the resources, knowledge, inspiration, and connections they need to move the field forward AAM's Alliance of 35,000 museums and museum professionals seeks to better our communities, and our world, through collaborative human-centered experiences, education, and connection to histories, cultures, the natural world, and one another. For more information, visit www.aam-us.org.