Apr 29, 2022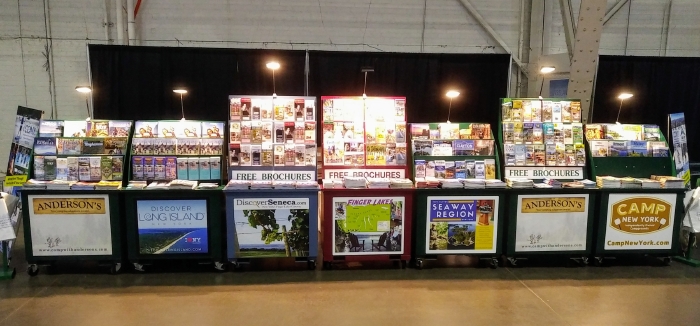 - Two of the tourism industry's most experienced and trusted leaders in brochure distribution will once again host a TOURISM INFO CENTER in the Center of Progress Building, a highly trafficked location at the 2022 New York State Fair. Destination Marketing Organizations and other tourism businesses are invited to reserve rack space.
Brand Connect Innovations, LLC (aka BCI) and Anderson's Brochure Distribution Service know first-hand that tourism literature is very popular among thousands of daily visitors to the fairgrounds. According to Dawn Whitbeck Borchert, owner of BCI, "This is the second year of this joint venture between BCI and Anderson's, but everyone involved has many years of proven experience promoting New York tourism destinations at the fair."
Borchert also says, "Professional staff will be on hand from opening until close each of the 13 days, managing stock and assisting fairgoers with their browsing. We make sure your destinations and businesses are in a position to be seen. People still want brochures! They pick up info for places they want to go or want to learn more about, and this is an affordable way for your literature to get distributed."
Sign up for rack slot/s for your business or organization. Slots start at only $250 brochure/$395 magazine for the 13-day fair.
Share the form with your stakeholders so they can take advantage of this affordable opportunity.
Consider investing in a stand-alone BRANDED kiosk dedicated to your destination and businesses, accommodating up to 28 separate brochures/magazines. Some counties and vacation regions did this quite effectively last year, taking point to either absorb the cost or creating affordable price points for their rack partners in the kiosk. We have a couple different configuration options.
Click here for the online form
For more information, email hello@bciatyourservice.com.
About BCI and Anderson's: Both companies have extensive travel show experience they put to work for you. Anderson's Brochure Distribution Service has been serving the campground and travel industry since 1981. They were founded with a simple goal, to provide a professional and cost-effective way to reach a large audience with your marketing material. Anderson's is currently owned and operated by Lisa and Don Bennett, Jr., who also operate their family business, Conesus Lake Campground in the Finger Lakes.www.campwithandersons.com. Brand Connect Innovations, LLC (aka BCI), launched in 2016, is operated by Dawn Whitbeck Borchert, a professional with over 30 years in the NYS travel and tourism industry ranging from hotel reservations and banquet services, to shows coordinator and county tourism director. www.bciatyourservice.com.