Nov 15, 2021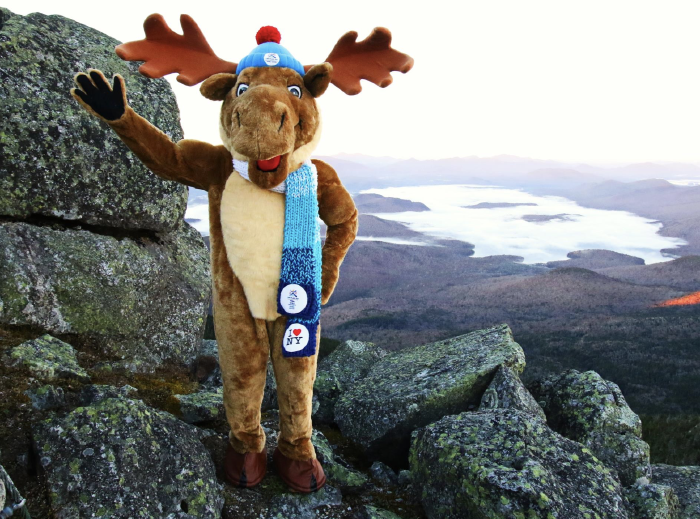 - Governor Kathy Hochul announced on Saturday, November 13 that Adirondack Mac will serve as the official mascot for the Lake Placid 2023 FISU World University Games. The moose mascot was designed by Kristina Ingerowski, a sophomore at the Fashion Institute of Technology and a native of Farmington, Ontario County.
Adirondack Mac will be a highly visible symbol of the Games, which attract a global audience. Mac will appear in various forms including a live, costumed character; as merchandise including toys, stuffed animals, apparel and other souvenirs; and in promotional materials. The Lake Placid 2023 FISU World University Games are scheduled for January 12-22, 2023.
"New York State has a proud legacy of hosting international competitions, and we look forward to welcoming college athletes and coaches from around the world to Lake Placid and the Adirondacks for the FISU World University Games in 2023," Governor Hochul said. "The mascot design competition was a unique way to showcase the talent and creativity of New Yorkers, and I want to congratulate Kristina Ingerowski on her winning design."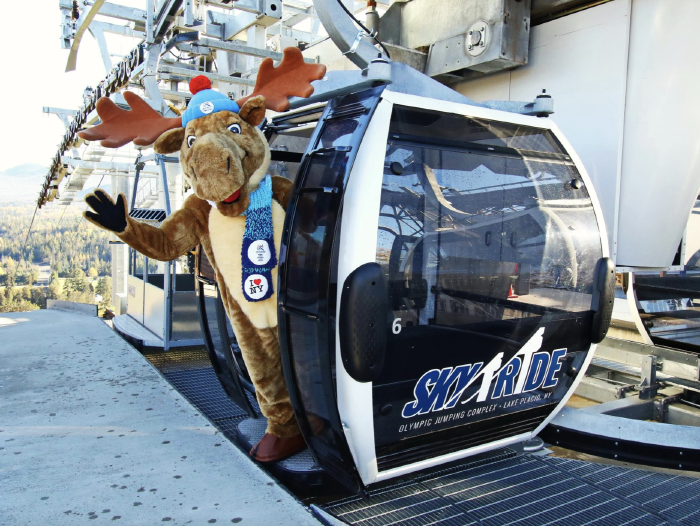 As the mascot for the Games, Adirondack Mac will help to showcase the beauty, charm and sporting heritage of New York's Adirondacks. Mac stands at six-feet tall and has a personality as big as the namesake region. During the winter, Mac can be seen on the slopes of Whiteface and Gore Mountains or skating around Herb Brooks Arena, while the summers include training with some of the best athletes at the area's world-class facilities. Mac has been known to relax, too, by exploring the many shops and unique restaurants throughout the North Country communities; hiking to some favorite fall foliage spots; and wading into any of the area's lakes and waterways to enjoy some fishing and swimming. The moose represents the best of what New Yorkers and the participating athletes have in common: strength, courage and determination.
Kristina Ingerowski, mascot design competition winner, said, "It is an honor to have my mascot design chosen for the FISU Winter World University Games 2023 in Lake Placid. Adirondack Mac is special to me because I have spent a lot of time over the years with my grandparents and family who live in Lake Placid. I wanted to capture the majestic beauty and character of the Adirondack region. There's nothing more charming than an Adirondack moose to represent and celebrate this spirit of friendly athletic competition in Lake Placid."
In March, New York State launched a contest seeking design concepts for a mascot to represent the Lake Placid 2023 World University Games. New Yorkers were encouraged to submit mascot design concepts that captured the collegial spirit of the international competition and the heart of New Yorkers. Nearly 150 submissions were received from entrants representing 87 communities across 35 different counties in New York State. Following a public vote on the I LOVE NY website, 10 designs advanced to a selection committee representing academia, government, tourism and athletics. As the selected winner, Ingerowski will receive a $5,000 cash prize.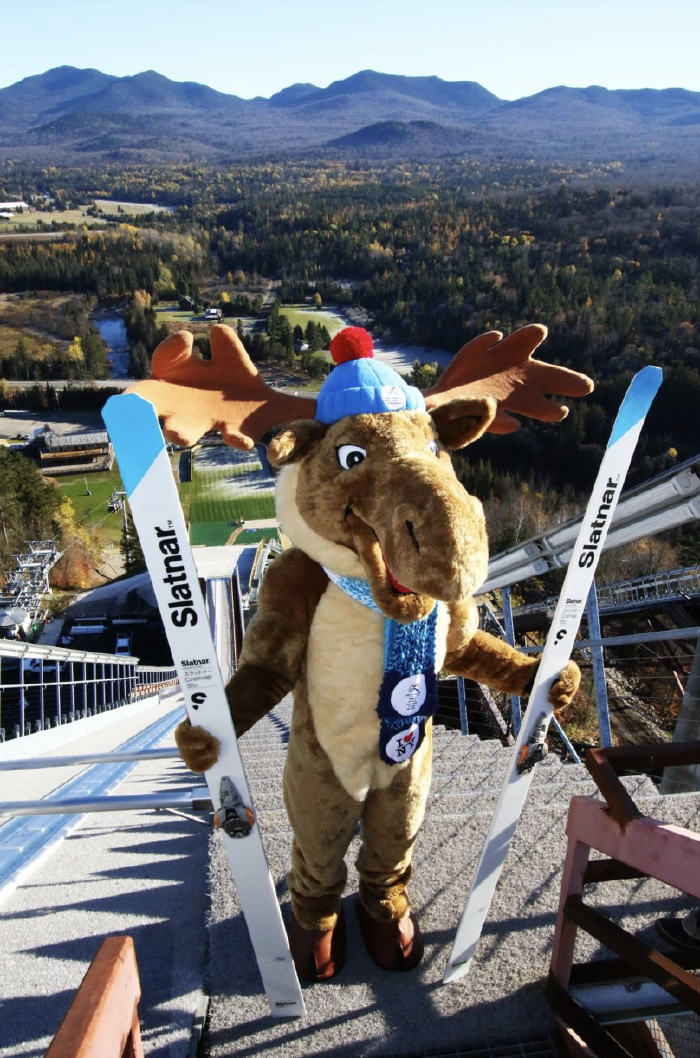 Lake Placid Mayor Art Devlin said, "We look forward to hosting the Lake Placid 2023 FISU World University Games with our neighboring communities, and showcasing the Adirondacks on a global stage. We proudly welcome Adirondack Mac as the mascot that will best represent the North Country for these Games."
Empire State Development Vice President and Executive Director of Tourism Ross D. Levi said, "The Lake Placid 2023 FISU World University Games will be a great opportunity for a global audience to explore and experience the region - and Adirondack Mac will help us to extend that welcome. The region is a paradise for winter sports, with mountains as bold and majestic as the moose that inhabit them, and we thank Kristina Ingerowski for her great mascot concept."
Olympic Regional Development Authority President and CEO Mike Pratt said, "Adirondack Mac is a terrific ambassador for the upcoming FISU World University Games. Mac embodies the healthy spirit of outdoor recreation for everyone, which is thriving throughout the Adirondacks and at all of ORDA's venues."
Adirondack North Country Sports Council Executive Director Ashley Walden said, "The mascot is a symbol of the Games. Adirondack Mac brings the Games to life by embodying the joy, spirit, determination and athleticism of the Games, the North Country and the region."
Adirondack Mac will embark on a tour around New York State, raising awareness of the Lake Placid 2023 FISU World University Games and the North Country region. The public can "Meet Mac" at the following appearances, with more to follow:
Saturday, November 13 at Mt. Van Hoevenberg - 12:30 p.m. - 2:00 p.m.
Saturday, November 20 at the Schenectady Holiday Parade - 5:00 p.m.
Friday, November 26 at Whiteface Mountain
Saturday, November 27 at Gore Mountain
More opportunities to "Meet Mac" are in the works and will be listed here.
In March 2018, Lake Placid was selected by the International University Sports Federation to host the 31st Winter Universiade. The FISU World University Games is an international sports and cultural event staged every two years in a different city. The 11-day competition draws 2,500 collegiate athletes and coaches for competitions in various disciplines including alpine, freestyle and cross-country skiing, biathlon, speed skating, curling, figure skating, hockey, short track speed skating and snowboarding. The Games will utilize many area sports facilities, including the Olympic venues managed by ORDA.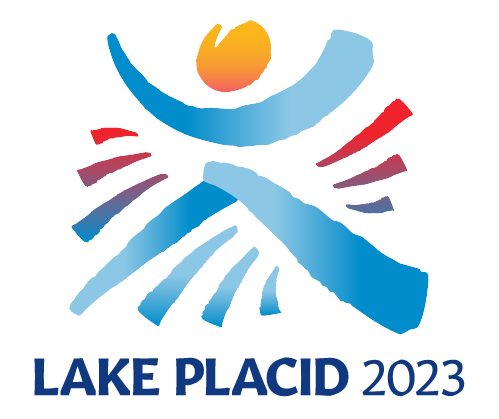 New York is the only state the U.S. to have hosted the FISU World University Games, and 2023 marks the second time Lake Placid has played host. The North Country community previously hosted the Games in 1972, and Buffalo was the site of the summer games in 1993.
New York State has committed nearly $240 million in funding to support the state's ORDA properties. These unprecedented investments in capital projects are improving the infrastructure of ORDA facilities to ensure they can continue to attract and support large-scale, global events, while transforming these areas facilities into year-round attractions. This includes a new 30,000 square foot Mt. Van Hoevenberg base lodge, the first-of-its-kind Mt. Van Hoevenberg Mountain Coaster, and the Olympic Jumping Complex zip lines and gondola. Additionally, new frost rails with LED lighting have been installed on the HS100 and HS128 ski jumps, ensuring a consistent and reliable jumping surface regardless of changing weather conditions.