Mar 30, 2022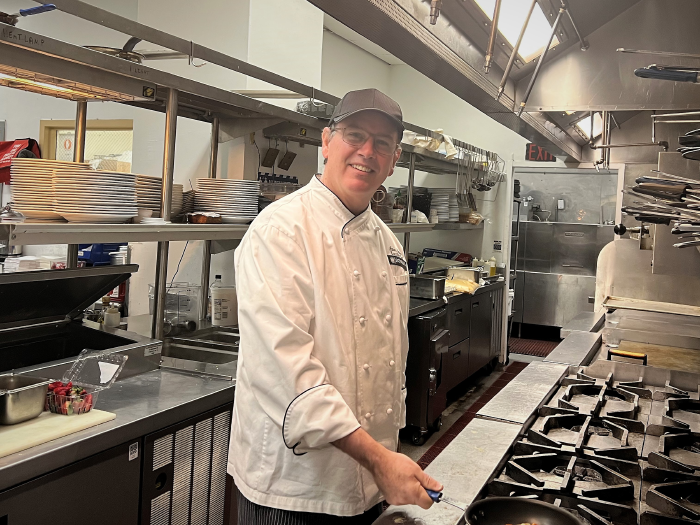 Preparing a menu involves creativity, innovation and planning—which are all passions of Chef James (Jim) Shannon, a 40+ year hospitality veteran. He and his culinary team are devoted to artful details and have a reverence for using only the freshest and most flavorful ingredients.
Chef believes in using local vendors whenever possible to ensure the freshest quality while supporting our community. Much of the produce that we use comes to us from local farms such as Satur Farms on Long Island. Our cheese selections come from the local caves in the Hudson Valley such as Nettle Meadow and Adirondack Creamery and our Smoked Salmon comes from Catsmo in the Catskills
Chef Shannon fell in love with the culinary arts as a teenager while working in restaurants on the New Jersey shore during youthful summer vacations. Having attended the prestigious Culinary Institute of America, Chef Shannon started his professional career working in award-winning restaurants throughout Florida, Pennsylvania, and New Jersey, until his career took him to sunny California with Hilton Hotels. Chef Shannon's memorable accomplishments include preparing meals for various Heads of State - including then-President Ronald Reagan - at the venerable Beverly Hilton Hotel, while also preparing dinners for the internationally acclaimed Golden Globe Awards.
Sonesta is proud to have Chef Shannon heading up our culinary brigade here in beautiful White Plains, NY. He is actively involved with City of White Plains and Westchester County organizations and works with local/regional educational institutes on initiatives such as career days and countless other signature social events. Chef has mentored many interns and associates throughout his career who have shared his passion for all things food.

We are confident you and your guests will enjoy a most memorable and much talked about the gastronomic experience from our kitchen and food services team!
- Sonesta White Plains Team
Dine with us at the 2022 NYS Tourism Conference and explore a flavorful Westchester experience! Menus have been carefully-selected to highlight the best the region has to offer, and may be updated based on seasonality.

Wednesday, April 20 at 12 PM - Hosted by ROVE
Opening Day Luncheon with Roger Dow - "THE BESTCHESTER":
Assorted soft drinks, water, freshly-brewed regular/decaffinated coffee and assorted teas
Artisan salad (lettuce with cucumbers, tomatoes, diced eggs, bacon bits, shredded cheddar cheese, cruotons, mushrooms, black olives, beets, carrots and jicama)
Roasted Cauliflower with walnuts, peppers, scallions and capers
Mains Station:

Chilled Marinated Flank Steak
Grilled Chicken Breast
Chimichurri Marinated Shrimp

Marinated and Grilled Asparagus
Red and Yellow Roasted Peppers
Oven Roasted Tomatoes
Freshly Baked Garlic Bread
Crème Brulee
Mini Fruit Tarts
Dinner - Freestyle*
* Freestyle dinner not included in registration. The Sonesta White Plains is conveniently located within walking distance of multiple fantastic restaurants in the downtown area, of which recommendations will be provided by Visit Westchester.

Thursday, April 21 at 8 AM - Hosted by MOWER
Breakfast - "THE BLOOMINGDALE":
Freshly-brewed regular/decafinated coffee and assorted teas
Chilled orange and cranberry juices
Fluffy Scrambled Eggs
Grilled Banger Sausage
Applewood Smoked Bacon
Breakfast Potatoes
Sliced Fresh Seasonal Fruits and Berries
Freshly Baked Muffins and Croissants
Assorted Bagels served with cream cheese, sweet butter and fruit preserves
Lunch
Variations introduced based on seasonal availability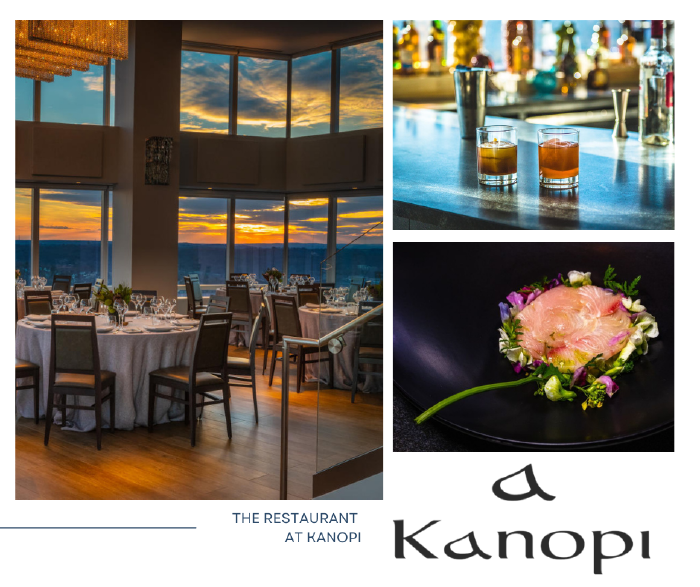 Dinner at Kanopi
Included Beverages:

Filtered water, soda juice

Delta Cafe's Coffees, Harney & Sons Teas

House sparkling, red & white wine

Passed Canapes

Kale Taco with citrus and avocado puree

English Pea Soup with herb oil

Lump Crabmeat Croquette with honey mustard

Pigs in a Blanket - phyllo dough and spicy mustard

Carne Asada Triangle - phyllo dough, garlic, chilli

Chef's Cheese, Charcuterie & Vegetable Display

Chef's Selection of Artisinal Cheeses and Accouterments
Chouriço, Linguica, Presunto
Mixed Olives
Za'atar Hummus served with carrots, celery, cucumber, & peppers
Blistered Shishito Peppers
Grissini Breadsticks

Dinner Stations

Vegetable Paella Station - artichoke hearts, brussels sprouts, tomatoes
Roasted Chicken - lemon, white wine, vinegar peppers
Israeli Cous Cous Salad - preserved tomato, pepitas
Kale Caesar Salad - Parmigiano Reggiano, garlic breadcrumbs

Dessert Display & Coffee Station

Assorted Macarons
Chocolate Chip Cookies
Pasteis Nata - Portuguese Custard Tarts
Seasonal Fruit Salad