Feb 4, 2022
Roni Weiss, Executive Director of Travel Unity, will give a presentation on the fundamentals of 'walking the talk' of DEI at the New York State Tourism Conference. Travel Unity is a 501(c)(3) focused on increasing diversity in the world of travel through individual and community empowerment. They connect community groups and individuals with travel, cultural, and educational experiences to promote personal and professional growth, and work with organizations in the world of travel to broaden their diversity, equity, and inclusion (DEI) efforts, including aligning with best practices for DEI.
Roni Weiss was born in Long Island, New York and grew up in Snohomish County, Washington, north of Seattle.
At the age of 10, Roni began attending Edmonds Community College (now Edmonds College), receiving his Associate's of Arts and Science with Honors at the age of 12. He graduated from Lynnwood High School at the age of 15, then attended the University of Washington, receiving double Bachelor's of Arts degrees in Drama and English at the age of 18.
Through years of world travels, Roni visited 70+ countries, including every country in Europe, six of seven continents, and taught English in Italy, France, Taiwan, and Chile, both to youth and professionals.
In 2011, Roni founded RW Social, a marketing and consulting company for the travel industry and nonprofits. From 2011 to 2016, Roni worked with Africa Travel Association (now Africa Tourism Association), assisting with and speaking at ATA's events in NYC, DC, and multiple African countries.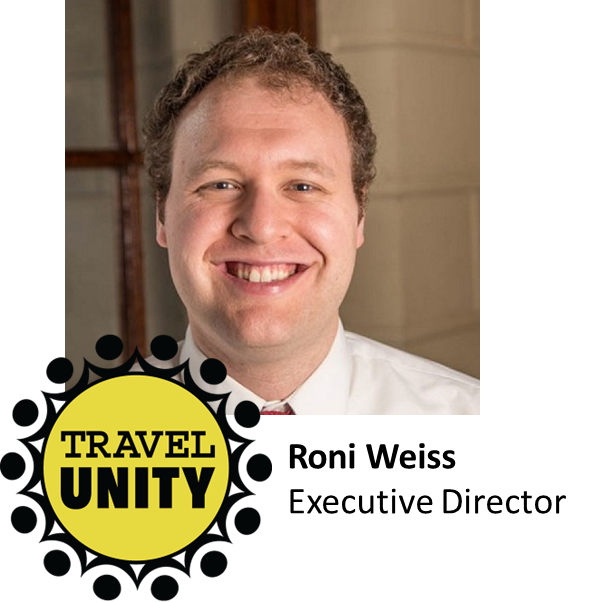 In 2013, RW Social launched the New York Travel Festival, an event focused on innovation and sustainability in the world of travel, which served as the genesis for Travel Unity, where he now serves as Executive Director.
Roni lives in Westchester County, NY with his partner, Lauren, and their four children.
Please join us at the Sonesta White Plains in Westchester County for the