Jan 25, 2022
Parcel Once Part of Greenwood Forest Farm Resort Community for Black Families
View of Greenwood Lake immortalized in noted Hudson River School painting

Governor Kathy Hochul today announced the addition of 130 acres of open space to Sterling Forest State Park in the Mid-Hudson Valley, adding new trails and public access to the 22,000-acre park. The new property has a unique history both as part of the former Greenwood Forest Farms, an early 1900s resort for prominent Black families from Harlem and Brooklyn, and as a vantage point of Greenwood Lake immortalized in a painting by Hudson River School artist Jasper Cropsey.
"New York remains committed to protecting valued open spaces for wildlife and New Yorkers alike," Governor Hochul said. "Throughout the pandemic, New Yorkers have relied on our public lands to stay active, spend time with their loved ones, and find fun and enjoyment. This addition to Sterling Forest State Park not only builds on our work to protect these areas, but continues our efforts to expand new recreational opportunities as well."
The property provides critical buffer land to help maintain and enhance the biodiversity of the area. The property creates an opportunity for a new access point to Sterling Forest in an area where there are currently no entry points to the park. A network of woods roads and trails on this property could serve as a natural addition to the existing trail system of Sterling Forest. This land was identified as a priority in the 2016 New York State Open Space Plan as part of the New York Highlands. The property was acquired with $364,000 from the Environmental Protection Fund.
From 1919 until the 1960s, a portion of the property was part of Greenwood Forest Farms, known as the first resort community for Black New Yorkers. The neighborhood immediately to the west was founded by a group of prominent Black families from New York City, and it became a haven for cultural and civil rights leaders from Harlem and Brooklyn, including writer Langston Hughes. Some descendants of the original pioneers now live in the neighborhood year-round.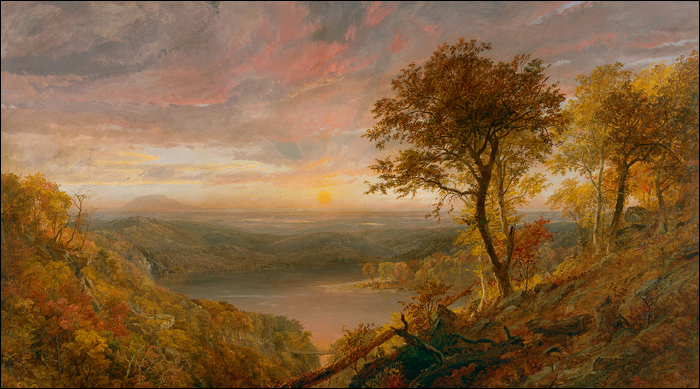 View of Greenwood Lake (Jasper Cropsey, circa 1845)

A rock outcropping in higher elevations on the northern part of the property provides a view of Greenwood Lake to the south. Jasper Cropsey, a member of the mid-19 century art movement known as the Hudson River School, painted a view of the landscape from this location in 1845. The painting entitled View of Greenwood Lake, New Jersey depicts the same view that can be enjoyed today.
State Parks Commissioner Erik Kulleseid said, "This addition Sterling Forest State Park is a great of example of how open space protection not only safeguards critical natural habitat and enhances outdoor recreation, it helps preserve important historic and cultural resources. I grateful to Governor Hochul and our conservation partners for their work to include this property to the state park system."
Senator Mike Martucci said, "The Hudson Valley is where environmental beauty comes to meet historical significance, and the newest addition to Sterling Forest State Park is no exception. Thanks to record investment in the Environmental Protection Fund, which I proudly supported, lands like this will continue to be preserved for generations of New Yorkers. I am grateful to Governor Hochul for her support of this natural treasure in my district."
Assemblymember Karl A. Brabenec said, "I am glad to hear that this effort is being made, to preserve the beautiful landscape of Greenwood Lake and Sterling Forest. When we work together anything is possible. I hope our efforts will ensure that future generations are able to enjoy these awesome places for decades to come."
Commission Executive Director Joshua Laird said, "The Palisades Interstate Park Commission is thrilled with this new addition to Sterling Forest State Park. This parcel is a special place of history and nature in the Hudson Highlands that we feel honored to preserve for future generations. We are thankful to Governor Hochul, Parks Commissioner Kulleseid and the Orange County Land Trust for their dedication and leadership that made this acquisition possible."
Orange County Land Trust Executive Director Jim Dehner said, "Our organization is proud of its rich history with Sterling Forest. These roots date back to the early 90s when a community-driven effort to protect Sterling Forest had first taken shape. Upon the park's creation some years later, our vision shifted to protecting important habitat buffers that surround the park with the goal of enhancing biodiversity, wildlife connectivity, and recreation. Protecting these 130 acres is a testament to this vision and we thank Governor Hochul, State Parks Commissioner Erik Kulleseid, and Palisades Interstate Park Commission Executive Director Joshua Laird for making it possible."
Sterling Forest State Park is a pristine natural refuge amidst of one of the nation's most densely populated areas, a remarkable piece of woodland, a watershed for millions, and a tremendous outdoor recreation area. This unbroken deep-forest habitat is important for the survival of many resident and migratory species, including black bear, a variety of hawks and songbirds and many rare invertebrates and plants. The park offers hunting, fishing and hiking.
The New York State Office of Parks, Recreation and Historic Preservation oversees more than 250 parks, historic sites, recreational trails, golf courses, boat launches and more, which are visited by 78 million people annually. For more information on any of these recreation areas, visit www.parks.ny.gov, download the free NY State Parks Explorer mobile app or call 518.474.0456. Also, connect on Facebook, Instagram and Twitter.