Sep 1, 2021
- As part of the Reimagine the Canals initiative, NYS Canal Corporation has partnered with an upscale camping company, Tentrr to set up campsites at four locations along the NYS Canals and Empire State Trail in order to provide unique accommodations for visitors.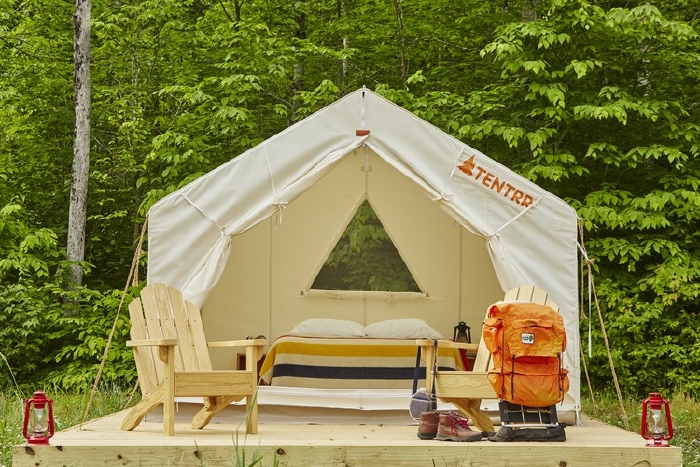 Each of the Canalside camping locations offers unique turnkey, outfitted camping facilities, allowing guests to camp in style amongst the Canals. In addition, each site is fully equipped with all the amenities for comfortable camping including spacious canvas tents atop a raised platform, a cozy queen size memory foam mattress, solar-powered "sun" showers, along with picnic tables and Adirondack chairs for admiring the view or stargazing. All locations have easy access to restaurants in quaint canal towns, cultural and historic attractions, as well as lots of kayaking, hiking, birding and biking opportunities.
Click here
to explore sites and book your stay!
The three campsites are in the Finger Lakes Region:
This camping program was launched in conjunction with the "On the Canals" program, which provides free, outdoor recreation opportunities at 6 locations along the system, most of which are a short 15-minute drive from the campsites.
More programs were featured in Conde Nast Traveler just recently: https://www.cntraveler.com/story/new-york-state-is-now-offering-free-paddling-hydrobiking-and-wildlife-watching-on-the-erie-canal