Dec 14, 2021

- Governor Kathy Hochul announced that the State Board for Historic Preservation has recommended adding 21 properties to the State and National Registers of Historic Places. The nominations include the former home and workplace of a pioneering 20thcentury social reformer in New York City, a summer camp created in Western New York by a spiritual community, the residence of a lumber baron who helped create the Adirondack Park, and a former factory in Buffalo that was once one of the nation's largest manufacturer of automobile radiators.
"New York is home to so many historic gems of industry and culture, and through these nominations, those places can truly be recognized," Governor Hochul said. "By including them in the historic registers, it ensures resources are available to maintain these meaningful reminders of the past. New York is a global spot for tourism, and bringing awareness to these 21 places will help draw even more visitors for years to come."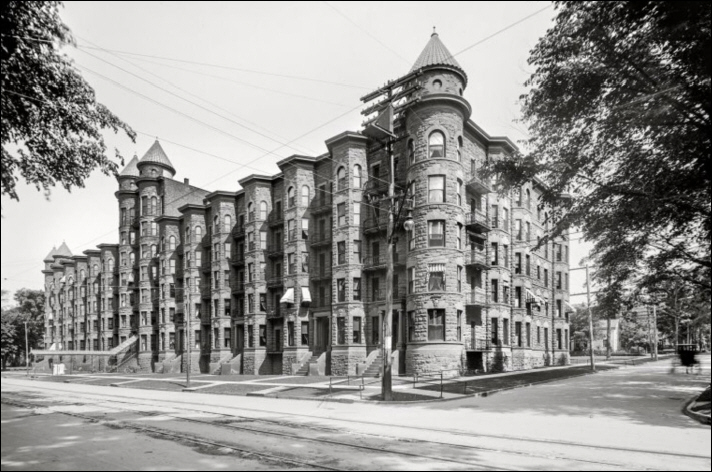 Olbiston Flats, Utica, Oneida County (circa 1905)
State and National Registers listing can assist owners in revitalizing properties, making them eligible for various public preservation programs and services, such as matching state grants and state and federal historic rehabilitation tax credits.
Commissioner of the Office of Parks, Recreation and Historic Preservation Erik Kulleseid said, "Part of our mission here at State Parks is to help preserve and promote the incredible range of history present in our state. Securing State and National Registers recognition for such places provides resources with potential incentives, such as state and federal tax credits, that will help keep this history alive and vibrant."
Deputy Commissioner for Historic Preservation at State Parks Daniel Mackay said, "These latest nominations continue the Division for Historic Preservation's (DHP) commitment to designating and supporting historic resources that represent the histories of our state's diverse population. It is an honor to be involved in such work,"
A study by the National Park Service on the impact of the tax credit on jobs and tax revenue in New York State found that between 2015 and 2019, the credits generated 67,578 jobs nationally and more than $195 million in local, state, and federal taxes.
The State and National Registers are the official lists of buildings, structures, districts, landscapes, objects, and sites significant in the history, architecture, archaeology, and culture of New York State and the nation. There are more than 120,000 historic properties throughout the state listed on the National Register of Historic Places, individually or as components of historic districts. Property owners, municipalities, and organizations from communities throughout the state sponsored the nominations.
Once recommendations are approved by the Commissioner, who serves as the State Historic Preservation Officer, the properties are listed on the New York State Register of Historic Places and then nominated to the National Register of Historic Places, where they are reviewed and, once approved, entered on the National Register.
More information, with photos of the nominations, is available on the Office of Parks, Recreation and Historic Preservation website.
Capital District
Schenectady Public Market and Scale House, Schenectady County - Established in 1915, this complex was a centralized market where both regional farm produce and locally butchered meat could be weighed and inspected before public purchase. The scale house, a unique and rare surviving example of its type, features a large central arch that permitted the passage of trucks and wagons which were weighed on a set of scales. Once featuring 200 open-air stalls, the public market continued as supermarkets gradually took over the market's role until it closed in 1970 as a wholesale market.
Schenectady Savings Bank, Schenectady County - Originally dating to 1905 as the city underwent rapid industrial growth, the bank was designed in the Neoclassical style but updated to reflect modern ideas about bank design in 1927 and 1952.
Country Club Highlands Historic District, Albany County - Located in Guilderland, this district reflects an early 20th century residential development on the outskirts of the city of Albany as residential growth expanded westward into what had been farmland. Supported initially by the development of trolley and, later, bus service, this neighborhood contains more than 160 residences, reflecting a blend of architectural styles, including Arts & Crafts, Colonial Revival and Spanish Mission.
Finger Lakes
Ellwanger and Barry Building, Monroe County - Built in downtown Rochester in 1888, this eight-story office building reflects the late 19th century commercial growth of the historic Four Corners area of the city. The towering Romanesque Revival-style building was designed by prominent Rochester architects Warner and Brocket and remains in use today.
Architectural Legacy of James H. Johnson, Monroe County - Working in the city of Rochester from 1957 until his death in 2016, Johnson left behind a body of work that includes some of the region's most distinctive public, private, and religious buildings, including the Liberty Pole in the city's downtown, the formed concrete Antell-Whitman House, also known nationally as the "Mushroom House," and St. John the Evangelist Church. Part of a movement known as Organic Modernism, Johnson was an innovator in the use of formed concrete. This Multiple Property document contextualizes the career and buildings of Johnson in the greater Rochester area from 1961-1977, as well as identifying property types, registration requirements and examples of known extant works. It will serve as a basis for future individual nominations of Johnson-designed resources
James H. and Sarah Johnson House, Monroe County - Built in 1975 from a design by Rochester architect James H. Johnson, this two-story home was a residence for Johnson, his wife, and their family until 2015, when it was sold to new owners. Displaying harmony with its natural setting in the woods, the home features Johnson's distinctive techniques, including a warped roof, stucco-finished walls, a custom artist-designed fireplace, and curved surfaces. It retains nearly all of its original features.
Long Island
Elaine de Kooning House and Studio, Suffolk County - Elaine de Kooning, a prominent abstract expressionist artist, spent her late career (1975-1989) in this home and studio. She experimented with new themes and series here, creating well-known works of art, and played a significant role in the local community of abstract artists in East Hampton.
John Jackson II House, Nassau County - Located in the town of Hempstead, the original section of this residence dates to ca. 1710 and was built by a grandson of the town's founder, Robert Jackson. As abolitionist Quakers, the Jackson family helped establish a nearby community for free people of color. The family expanded the house in the Greek Revival style and retained ownership until 1899.
Mid-Hudson
J. Garner West House, Rockland County - Constructed around 1882 for a prominent textile merchant family, this mansion in Stony Point reflects the Second Empire style. The family once owned mills in Cohoes, Little Falls, Newburgh, Pleasant Valley, Rochester, and Wappinger Falls. The substantial private residence served as the family's home until 1900 and after years of deterioration, has been carefully restored to reflect its original character and design.
Mohawk Valley
Olbiston Flats, Oneida County - Built in 1898 in the Renaissance Revival style, this five-story brick and stone apartment building in the city of Utica reflects the industrial growth of the city at the end of the 19th century. It was aimed at upper- to middle-class tenants as an alternative to individual home ownership.
Smith-Voorhees-Covenhoven House, Montgomery County - Constructed around 1786 in the town of Glen, this residence reflects a blending of traditional Dutch and New England construction techniques immediately after the Revolutionary War. It remains in use as a residence.
New York City
John James Audubon Houses, Manhattan - Constructed in 1962 by the New York City Housing Authority, this 20-story public housing project in the Hamilton Heights/Harlem neighborhood remains in use today as affordable housing. The project represented early use by New York City planners of the so-called "vest pocket," or scattered site housing development, concept, which called for smaller-scale development on vacant properties and minimal demolition of existing housing, rather than construction of large, multi-tower projects.
Lillian Wald Residence, Manhattan - The buildings at 265 and 267 Henry Street were the residence and workplace of progressive reformer and public health nurse Lillian Wald from 1895 through 1933. Wald was the founder of the Henry Street Settlement, which continues to provide social services and health care programs from this site. Wald founded public health nursing, started the school lunch program in New York City, established the first classrooms for children with special needs, and placed the first school nurse in a public school. She advocated for women's suffrage, labor protections, child labor laws, and the rights of immigrants. Wald was also a member of the first generation of "New Women," educated, independent middle-class women who rejected traditional gender roles in order to work professionally. These women, many of them lesbians, worked and lived communally and were enormously influential in Progressive Era reform movements.
Mary McLeod Bethune Houses, Manhattan - Opened in 1967, this New York City public housing project represents an early example of a federally funded senior citizens high-rise. The building was also among the city's first senior housing high-rises not associated with an existing campus-style, or superblock, housing development. It remains in use for this purpose.
Ridgewood Fresh Pond Road - Myrtle Avenue Historic District, Queens - This historic district, which includes more than 400 primarily commercial buildings, is significant for its cohesive architecture reflecting the area's rapid development. The neighborhood dates to the turn of the 20th century and its subsequent growth from an extension of the elevated rail line that better connected it to Manhattan and Brooklyn.
North Country
Theodore Basselin House, Lewis County - Originally constructed in 1855 and subsequently expanded in the center of the village of Croghan, this residence, with an office and barn, was the home of regional lumber magnate and philanthropist Theodore Basselin. Basselin was one of New York State's first three Forest Commissioners and was instrumental in creation of the Adirondack Park. The property also operated as a general store from 1855 to 1900 and later housed the village's first bank. It is currently used as a residence.
Thousand Island Park Historic District (Boundary Amendment and Additional Documentation, Jefferson County) - This expansion of an existing historic district adds more than 30 buildings to the nomination for this 270-acre former 19th century Methodist campgrounds and cottage colony on Wellesley Island in the St. Lawrence River. The boundary amendment extends the historic district to include boathouses as they represent an important part of the recreational history of this community.
Southern Tier
North Main & West Water Commercial Historic District Boundary Increase - Located in the city of Elmira on the north side of the Chemung River, this listing adds eight contributing buildings, a park, and several churches to a district that reflects the city's economic growth beginning in the mid-19th century.
Reynolds House, Allegany County - Also known locally as the Christmas House, this home in the village of Alfred has a distinctive red and green exterior similar to that of its construction in 1864 in an architectural style that blended Italian Villa and Second Empire elements. Built for a local cheese box maker who went bankrupt during the Civil War before the house was completed, it was acquired by a local feed mill owner who finished it. It remains a residence.
Western New York
Fedders Manufacturing Company Factory, Erie County - Built in stages between 1907 and 1928 in Buffalo, this complex was once one of the largest makers of automobile radiators in the U.S. and was later used in the manufacture of air conditioning products, with its customers including Chrysler, General Electric, Westinghouse and Sears Roebuck. Production ceased there in the early 2000s and portions of the now-vacant complex were lost to neglect over the last two decades; however, the buildings retain sufficient integrity as an example of industrial architecture representing the city's early 20th century manufacturing history.
Lily Dale Assembly Historic District, Chautauqua County - The religious camp community was founded in 1879 on the shores of Cassadaga Lake, about 50 miles southwest of the city of Buffalo. Now a 160-acre residential hamlet and home to 275 residents, it was created as a summer camp by practitioners of Spiritualism and includes a large woodland with buildings, sites, and structures meant to provide inspiration for quiet reflection, recreation, and spiritual practice. The largest and oldest continuously operating Spiritualist camp in America, Lily Dale remains an active setting for Spiritualism, which is the belief in continuous life based on the communication through a medium with those in the spirit world. Spiritualism in the 19th century also aligned itself with such causes as abolitionism, temperance, and women's rights. One of only four remaining Spiritualist camps in the nation, the Lily Dale community draws thousands of visitors each year for workshops, lectures, and demonstrations.



New York State Office of Parks, Recreation and Historic Preservation oversees more than 250 individual parks, historic sites, recreational trails and boat launches, which were visited by a record 77 million people in 2019. A recent university study found that spending by State Parks and its visitors supports $5 billion in output and sales, 54,000 private-sector jobs and more than $2.8 billion in additional state GDP. For more information on any of these recreation areas, call 518-474-0456 or visit
NYS Parks website
, connect with us on
Facebook
, or follow on
Instagram
and
Twitter
. The free New York State Parks Explorer mobile app is available for iOS and Android devices. To download, visit:
Google Play Store, NY State Parks Explorer App
or
Apple Store, NY State Parks Explorer App
.
Media Contact:
Governor's Press Office
518-474-8418
Press.Office@exec.ny.gov