Dec 19, 2021
- I wanted to start this week's newsletter with an update on where we're at. We have seen a sharp increase in COVID cases over the last week. This was not surprising. Once omicron hit the shores of this country and we learned about how fast it spread, we knew we'd see cases rise.
But let me be clear: This is not March of 2020. We have defenses. We have people across the State of New York who are doing the right thing.
To all New Yorkers who've gotten vaccinated, gotten boosted, are wearing their masks, and are getting tested when necessary, thank you for making sure that this holiday season is vastly different than last year.
If you haven't gotten the vaccine or booster yet, there's still time to protect yourselves and the most vulnerable person at your holiday table.
I don't want to lose one more New Yorker to this virus. We need to take these variants seriously and do everything we can to slow the spread, save lives, and get through this winter surge.
UPDATES IN OUR FIGHT AGAINST COVID
OVER 40 NEW VACCINE AND BOOSTER POP-UPS. As part of our extensive efforts to get all New Yorkers fully vaccinated and boosted, we're partnering with local health departments and community partners to launch over 40 new pop-up vaccination sites across the state. Learn more and find a pop-up site. And remember, as of 12/17, you can get vaccinated from one of over 5,600 active providers across the state. Find a site near you.
MASK OR VAX REQUIREMENT NOW IN EFFECT. Now through January 15, businesses must require either proof of vaccination or mask-wearing indoors for everyone on their premises. Thank you to all the New Yorkers who are getting vaccinated and wearing their masks, and all the businesses and community leaders who have come together to keep their neighbors safe. Find answers to frequently asked questions about the temporary requirement.
ONE MILLION RAPID TESTS. With cases on the rise and the omicron variant here, we're ensuring that everyone who wants a test can get one. One million rapid tests arrived at local health departments this week and will be going to areas most in need. Find a testing site near you.
THE LATEST ON THE NUMBERS
THIS WEEK'S COVID TRENDS. As of December 18, 2021, 3,880 New Yorkers are hospitalized with COVID-19. Our 7-day percentage positivity average is 6.88%, which is up from 4.61% last week. There were 83.26 cases per 100K statewide.
According to the CDC as of December 18, 2021, 94.3% of adult New Yorkers have received at least one vaccine dose. So far, 32,372,596 total vaccine doses have been administered, and 136,402 doses have been administered over the past 24 hours.
Photo of the Day: I met New Yorkers of all ages doing their part and getting vaccinated & boosted at the Crossgates Mall vaccination site this weekend (Photo by Darren McGee)
Every week, we're answering some commonly asked questions about COVID-19 and vaccinations. You can submit a question for a chance to get your question answered in next week's newsletter. Submit your question here.
QUESTION: How long must someone wait after a COVID diagnosis to get a vaccine? (Toni R., Oswego County)
ANSWER: According to the CDC, people with COVID-19 who have symptoms should wait to be vaccinated until they have recovered from their illness and have met the criteria for discontinuing isolation; those without symptoms should also wait until they meet the criteria before getting vaccinated.
I'll leave you with a quick reminder: Get your last-minute gifts at a local shop or grab a meal from your favorite local restaurant. We know the past 21 months have been incredibly tough on our small businesses, and we must all do our part to keep them going strong. Look out for the small businesses that make our state such a great place to live, and continue to look out for each other this holiday season.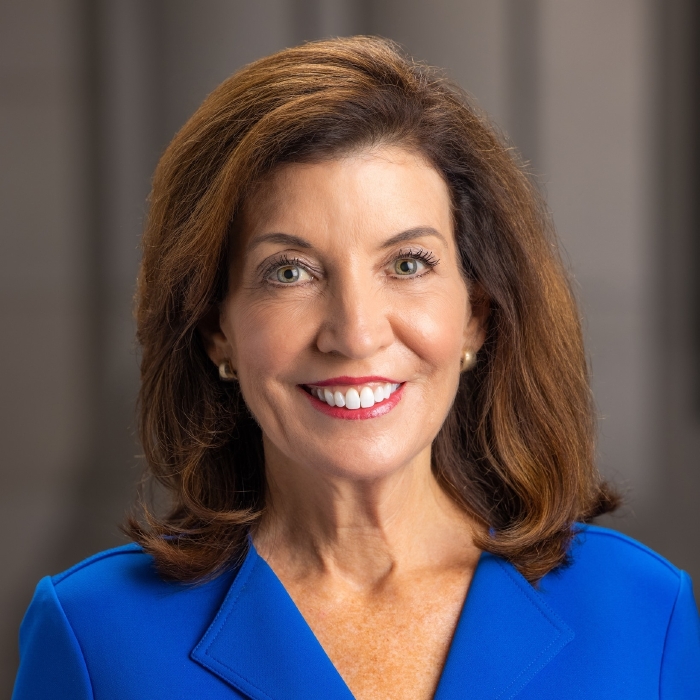 Ever Upward,
Governor Kathy Hochul