Jan 28, 2022
- When it comes to our fight against the winter surge, we are trending in the right direction and making progress. For six days straight, our COVID positivity rate has been below 10%, the lowest since December 20.
And thanks to New Yorkers wearing their masks and getting vaccinated, boosted, and tested, we've been able to bring new positive case numbers down to a third of what they were just two weeks ago — and hospitalizations are down by nearly 2,700 over the past week.
But we're not through this surge just yet. We're working hard to bring New Yorkers more tests, more testing locations, and more places to get vaccinated and boosted — please, keep using these tools.
Let's dive in.
UPDATES IN OUR FIGHT AGAINST COVID
TAKE-HOME TESTS FOR EVERY STUDENT. Testing is a critical tool to keep our kids safe and in the classroom. By the end of this week, we will have already distributed more than 14 million tests to schools. And to continue our efforts, we're sending two tests home with every K-12 student ahead of the midwinter break. Tests are widely available across the state — find a testing location near you and get tested today.
MORE #VAXFORKIDS POP-UP SITES. We're making it even easier for kids to get vaccinated with 76 new Vax for Kids pop-up sites set up to date. Vaccines are safe and effective, and over 1.5 million New York kids already have received at least one vaccine dose. Parents & guardians, if you've been waiting to get your child vaccinated, now's the time to do it. Make an appointment today.
SENDING TESTS TO NURSING HOMES. Our efforts focused on controlling the spread of COVID in nursing homes are working — cases are down 30% in nursing homes as of January 22. We have deployed 2.2 million tests to nursing homes and congregate care settings already, with 200,000 more coming this week.
THE LATEST ON THE NUMBERS
THIS WEEK'S COVID TRENDS. As of January 25, 2022, 9,335 New Yorkers are hospitalized with COVID-19. Our 7-day percentage positivity average is 9.11%, which is down from 14.27% last week. There were 107.47 cases per 100K statewide.
Per the CDC, as of January 26, 2022, over 95.0% of adult New Yorkers have received at least one vaccine dose and 84.3% of adult New Yorkers have had a complete vaccine series. So far, 35,629,331 total vaccine doses have been administered, including 66,121 doses administered during the past 24 hours.
Photo of the Day: While in Syracuse, I had the opportunity to meet and thank first responders from Los Angeles, Las Vegas, Colorado, and even Kansas City (Photo by Mike Groll)
Every week, we're answering some commonly asked questions about COVID-19 and vaccinations. You can submit a question for a chance to get your question answered in next week's newsletter. Submit your question here.
QUESTION: When will we be able to order home testing kits? (Allen, Erie County)
ANSWER:
Last week, the White House announced that everyone can order free take-home tests for their household. New Yorkers can order their take-home test through covidtests.gov. Tests will typically ship within 7-12 business days once ordered. I encourage all New Yorkers to take advantage of this program and order your free take-home tests as soon as you can.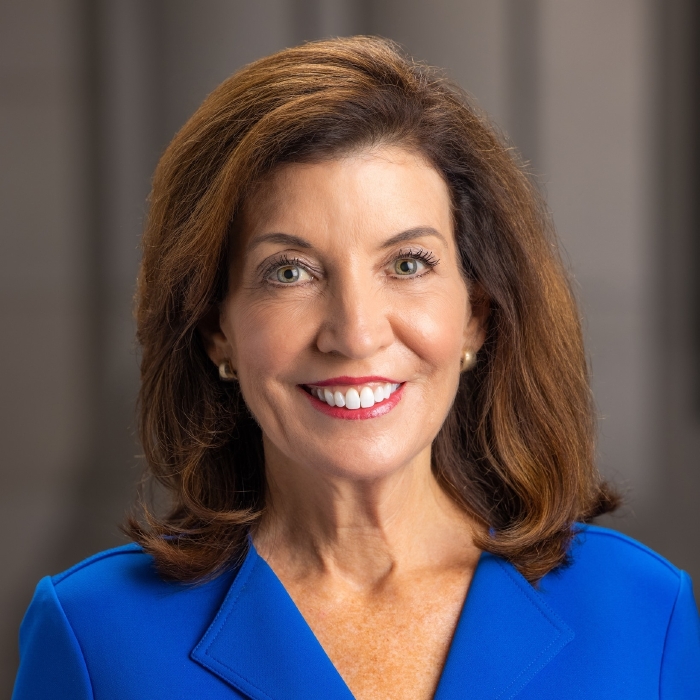 Ever Upward,
Governor Kathy Hochul