Nov 1, 2021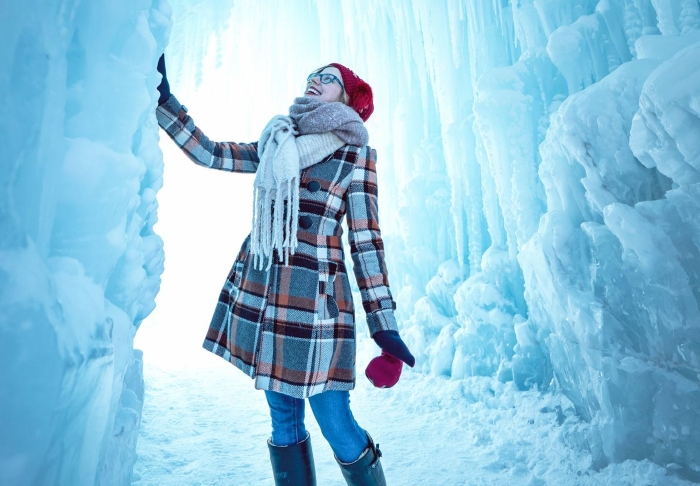 - Ice Castles is an awe-inspiring, must-see winter phenomenon that brings fairytales to life. This winter, attendees can escape into an icy wonderland at The Festival Commons in beautiful Lake George, New York, one of only five locations across the United States. Each castle is approximately an acre in size and consists of more than 25 million pounds of ice.
Ice Castles Activities:
Crawl Tunnels - Squeeze through passageways just large enough for children and adults who are adventurous enough to crawl.
Arctic Alcove - Book a VIP experience in a private alcove within the castle, perfect for proposals or other special occasions.
Ice Maze - Get lost in a maze of ice tunnels where excitement and wonder await around every turn.
Ice Caverns - Immerse yourself in icy caverns and walk beneath archways of massive icicles dangling overhead like a winter chandelier.
Ice Slides - Squeal with delight as you race down one of our exhilarating ice slides designed for all ages.
Features are weather-dependent and may be temporarily closed or unavailable due to weather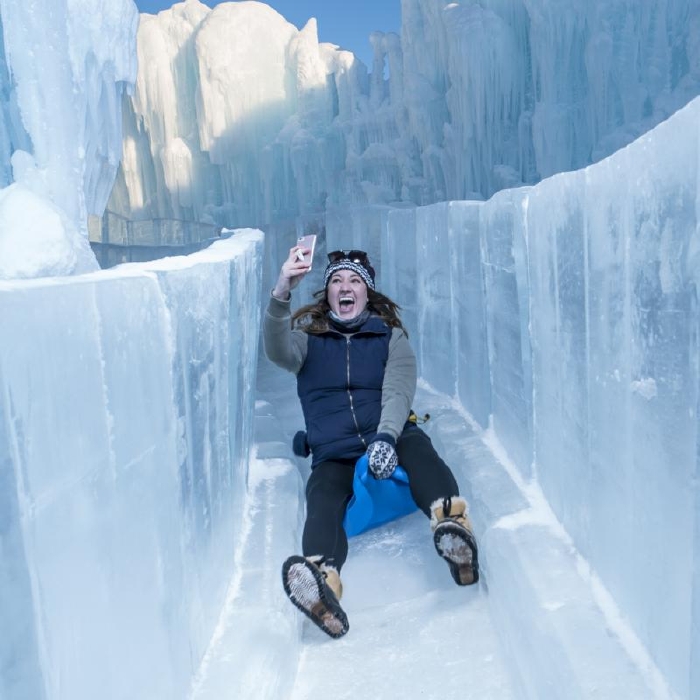 The experience is built entirely by hand using hundreds of thousands of icicles, grown, sculpted, and hand-placed by professional ice artists. The castles include breathtaking LED-lit sculptures, frozen thrones, ice-carved tunnels, caverns, slides, and fountains. By day, this frozen fortress glimmers a natural glacial blue. At night, color-changing lights embedded inside the ice twinkle and dance to whimsical music. The one-of-a-kind, award-winning winter attraction takes a team of 20-40 ice artisans approximately 8-weeks to construct and is only open as long as Mother Nature permits. Each day, the ice artisans harvest and place between 5,000-12,000 icicles. The icicles are then sprayed with water, and the process is repeated until the ice reaches heights around 15-30 feet. The blend of icicle placement, varying temperatures, and wind result in an ever-changing variety of ice formations.
Since 2011, Ice Castles has been dedicated to creating an experience that will live on long after the ice melts. The company's mission to create joy, magic, and a sense of wonder grew from a father's love. The concept for Ice Castles was created when founder, Brent Christensen, attempted to build an ice cave for his children in front of their Utah home. The family had just moved from sunny California to snowy Utah, and Christensen wanted to bring the magic of winter to his children. The project turned into a winter hit, drawing crowds of people from all across town who came out to visit and tour his icy creation. Ice Castles has since turned into an internationally renowned tourist attraction
Tickets MAY be available on-site if Ice Castles is not sold out. On-site prices are subject to higher rates. For guaranteed entry and the lowest price, buy tickets online in advance.

Read more about the event on the Lake George Area website here.